SVRA Mobile App
Vintage Racing's Premier Organization Delivers Mobile App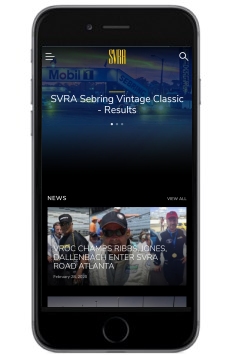 The Sportscar Vintage Racing Association (SVRA) released a major revision of its mobile phone app developed for its members and vintage auto racing fans. The second release of the app enables both spectators and SVRA members to easily stay in touch with the latest SVRA news, whether at the track or on-the-go. The app is free to download and is available on both Android and Apple platforms.
"Our trial at 2020 Sebring was a tremendous success reaching twenty countries worldwide," said Tony Parella, SVRA President, CEO and majority owner of the Trans Am Series presented by Pirelli.  "We established a national platform for our sponsors several years ago and now we have extended the reach of our brand on a global level. This thrusts SVRA and our Vintage Race of Champions series into the mainstream motorsports conversation."
A key feature of the app is the delivery of live video streaming. During a race weekend the sanctioning body typically presents dozens of practice and qualifying sessions as well as races across numerous SVRA run groups and frequently hosts other series such as professional Trans Am, America's GT Cup and Historic Trans-Am.
The app allows fans access to a variety of content including:
– Full live videos of all SVRA on-track sessions, including behind-the-scenes stories
– Fully produced video stream with live commentary and scoring
– Fans can watch the produced stream or switch to other cameras of their choice
– Race highlights
– Replays of 2020 full races, including Vintage Race of Champions Charity Pro-Ams
– Race results
– Event, team, and driver news
Download the SVRA App for free at Google Play for Android devices or the App Store for Apple devices.