2016 Portland Vintage Racing Festival
July 7 - 10, 2016 | Portland International Raceway - Portland, OR
Honoring Formula Race Cars and Cooper Race Cars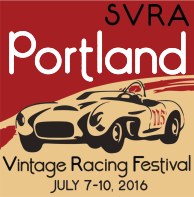 More than 200 historic sports cars will grace the Portland International Raceway road course during SVRA's second annual Portland Vintage Racing Festival. The weekend event offers race groups for all SVRA classes. In 2016, SVRA honors Formula racing cars at PIR with the Formula Festival, providing various racing opportunities to honor cars such as Formula 1, Formula 5000, Formula B, Formula Ford, Formula Vee and Formula Junior. Prototype, sports racing and production sports cars from marques such as Lotus, Alfa Romeo, Jaguar, Porsche and Corvette, principally from the 1950s, 1960s and 1970s, will also be on track. The weekend also includes two enduros. SOVREN, VARA, and CSRG members are invited to PIR as special guests. Saturday night's party for drivers and crew starts just as the checkered flag waves over the final race group and includes dinner at the track.
Spectators Welcome July 8 – 10
We encourage car lovers and fans of vintage racing to join us starting July 8. The Portland Vintage Racing Festival is a great family event. Children 12 years old and under are admitted free. Admission covers entry to all spectator areas, as well as paddock access (parking $10). Guests can stroll the paddock, see the cars up close and chat with the drivers, or shop and eat on vendor row. A weekend Car Show near the paddock also offers a wide array of classic, vintage, exotic and collector cars to admire. Car show entrants have the opportunity to participate in a track lap at the end of the day.
Located in a city park, Portland International Raceway is a 12-turn, 1.9-mile circuit built on site of the former town of Vanport, which was completely destroyed by a flood in 1948. The land was acquired by the city of Portland in 1960 and the first sports car race was held in conjunction with the 1961 Rose Festival on a circuit comprised of some of Vanport's remaining streets. A permanent circuit was completed in the 1970s, and PIR has hosted numerous amateur and professional motorsports events since then.
[event_register_button=419]
Portland Entry Form (PDF)
Points: SVRA West Eligible
Rules: varies by Run Group – SVRA Rules / SVRA Gold Medallion (General Racing)
Eligibility Contact: Rick Parent – rick@svra.com
Licensing Contact: Alex Miller – alex@svra.com
Vendor Sales: Sandy Bauer – sandy@svra.com – Vendor Registration Form (PDF)
Car Show: Sandy Bauer – sandy@svra.com
Registration Contact: Jessie Panel – jessie@svra.com
Event Information Contact: Kathy Swinford – kathy@svra.com
Media/Press Contact: Pam Shatraw – pam@svra.com
Fuel Orders: Monty – 360-859-3595 or monty@bits-pieces.com