2017 U.S. Vintage National Championship
November 2 - 5, 2017 | Circuit of The Americas - Austin, TX
Now a SVRA tradition, the Circuit of The Americas is the site of the U.S. Vintage Racing National Championship. Vintage race competitors from around the world come to the 4-day event to race at this signature F1 track – all hoping to go home with the coveted golden Bell Racing National Champions helmet. The venue will also host the last race of the Trans Am West Coast Championship series and its champions decided. The Trans Am Series presented by Pirelli will garner points towards its championship at this event as well.
The US Vintage Racing National event has as much to do off the race track – as on. All day Saturday, the Texas-sized Hagerty Show and Shine car show will display some of the best cars Texas has to offer. The car show ends with a lunchtime lap around the track for all of the show entrants. SVRA's Saturday night entrant parties are legendary! This year the party starts off with a Texas style BBQ dinner, and year-end awards ceremony. Ten-gallon hats and cowboy boots are a must!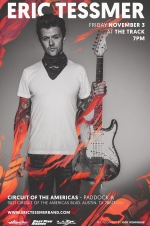 **Special Hotel Rate for SVRA/Trans Am/IGT.  Hyatt Place Austin Airport, 9532 Spirit of Austin Lane, Austin, TX 78719.  512-272-5001.  Newly remodled, includes breakfast.  Use CODE G-USVN when registering for your discounted rate.
Test Day Schedule
OFFICIAL RACE SCHEDULE
Additional Event & Venue Information
POINTS ELIGIBLE – DOUBLE POINTS FOR SATURDAY RACES ONLY
SUNDAY HELMET RACES NON-POINTS RACES
Contacts
Eligibility Contact: Rick Parent – rick@svra.com
Licensing Contact: Alex Miller – alex@svra.com
Vendor Sales: Toni Cumbess – tc@svra.com
Car Show: Toni Cumbess – tc@svra.com
Event Information Contact: Kathy Swinford – kathy@svra.com
Media/Press Contact: Pam Shatraw – pam@svra.com

Pre-order Sunoco Race Fuel
Contact: Bobby Tomastik – bobby@lonestarsupergas.com
Golf Cart Rentals – Available from KC Golf Cart Company. Look under the RESERVATIONS column for: 2017 Sportscar Vintage Racing Association. Use password "svra2017" for access to the SVRA COTA rate package.

Race Report from 2016