2019 Heacock Classic Gold Cup Featuring the VROC Charity Pro Am Presented by Chopard Watch
September 19 - 22, 2019 | Virginia International Raceway - Alton, VA
Virginia International Raceway's circuit is a favorite autumn race destination for drivers and teams. Some of the best vintage and historic Sports Racing, Formula and Production GT race cars will grace the road course over the weekend. The grids feature many of the best-known, and prestigious marques in racing, including: Lotus, Porsche, Shelby, Alfa Romeo, Corvette, MG and Jaguar.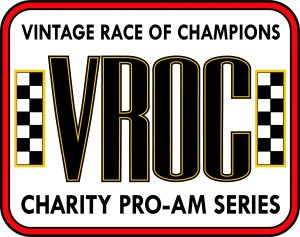 The weekend showcases the Vintage Race of Champions Charity Pro-Am (VROC) race, presented by Chopard Watch. The VROC feature race pairs veteran Indy, IMSA, Trans Am, NASCAR and F.1 drivers with amateur racing partners driving Corvettes, Camaros and Mustangs in a 45-minute race. There will be an autograph session on Saturday from 10:45-11:15 in the tech garage area.  The Charity Pro-Am event will benefit IGNITE – the Autism Society of North Carolina's community center for young adults with high-functioning autism or Asperger's syndrome. IGNITE was founded by The Evernham Family Racing for a Reason Foundation – a nonprofit established by legendary NASCAR crew chief Ray Evernham and his family.
A Marque Reunion honoring Alfas has been announced. The Trans-Am Series, IGT and Mazda Miata Heritage Cup will join SVRA at VIR as a part of their nationwide series. The Hagerty Cars and Caffeine Car Show will host over one hundred street and performance cars.
Virginia International Raceway is located just outside of Danville, Virginia. The 3.27 mile historic track offers 17 turns, numerous elevation changes and long straights in a park-like setting.
OFFICIAL TEST DAY SCHEDULE  Rev. 9/15
OFFICIAL RACE SCHEDULE  Rev. 9/15
VIR Frequently Asked Questions
LOAD IN MAP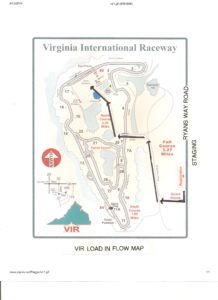 Contacts
Eligibility Contact: Rick Parent – rick@svra.com
Licensing Contact: Alex Miller – alex@svra.com
Vendor Sales: Alex Miller – alex@svra.com
Car Show: Toni Cumbess – tc@svra.com
Event Information Contact: Kathy Swinford – kathy@svra.com
Media/Press Contact: Pam Shatraw – pam@svra.com