2020 Savannah Speed Classic, A SpeedTour Event
October 22 - 25, 2020 | Grand Prize of America - Hutchinson Island, GA
THIS EVENT HAS BEEN POSTPONED
Savannah is the birthplace of Grand Prix (GP) racing in America. Vintage race cars will take center stage on the Grand Prix of America road course for three full days of on track excitement. All SVRA race classes are invited. The International GT Series continues its racing traditions at the Savannah Speed Classic.
In 1908 the unpaved roads of the Savannah hosted the American Grand Prize the first GP race in North America. Three other races followed one GP in 1910 and two—a Grand Prix and a Vanderbilt Cup race, in 1911.
The Savannah Speed Classic offers abundant track time for all race groups. The spirited Friday race car tour to the street party in historic Savannah is not to be missed. Parties, car shows, touring, spectators add to the fun—all weekend long. We invite you to join us and enjoy a great racing weekend, on a challenging track and experience the hospitality of Savannah.
2020 Savannah Speed Test Schedule
2020 Savannah Speed Schedule
Featured Marque: Corvair
Featured Marques race for free, upon taking the green flag for the Sunday Feature Race. The race celebration includes a marque paddock, Reunion Race and will be highlighted in the event programs. Featured Marque entries can run in the standard SVRA run groups on Saturday and Sunday, as well as race in the 30-minute feature Reunion race on Sunday.
Grand Prize of America
| | |
| --- | --- |
| Location: | Hutchinson Island, GA |
| Length: | 1.965 miles |
| Turns: | 10 |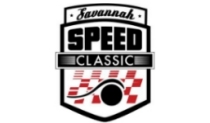 Contacts
Eligibility Contact: Rob Elson – rob@svra.com
Licensing Contact: Alex Miller – alex@svra.com
Vendor Sales/Car Show: Toni Strollo – tc@svra.com
Event Information Contact: Kathy Swinford – kathy@svra.com
PR Contact: Ashleigh Aungst – pr@parellamotorsports.com
Photo/Media Credentials: [Request Credentials] Pam Shatraw – pam@svra.com