2021 Austin SpeedTour
November 4 - 7, 2021 | Circuit of The Americas - Austin, TX
Join SVRA for a super weekend racing at a state-of-the-art Formula One track deep in the heart of Texas!
Opened in 2012, Circuit of the Americas is the first modern purpose-built Grand Prix facility in the United States. Designed by Hermann Tilke, creator of many current Formula One tracks around the world, the 20-turn, 3.4-mile circuit climbs to a tight hairpin at the crest of a 133 foot incline. This dazzling Turn One is followed by a series of fast sweeping corners, hairpin turns and high-speed straightaways.
Austin SpeedTour is one of the most popular events on our schedule, routinely drawing hundreds of vintage race cars of all types. Competitors from around the world close their racing season by competing for coveted Bell Gold Helmets. Please join us!
OFFICIAL TEST DAY SCHEDULE  REV 10/28/21
OFFICIAL RACE SCHEDULE  REV 11/1/21
PARTICIPANTS:  Please note, due to the high number of entries, there will be no personal vehicles inside the main paddock.  Only tow vehicles, WITH A TOW HITCH, TOWING THE TRAILER, will be issued a paddock parking pass.  We will be looking at the vehicle before we issue the pass.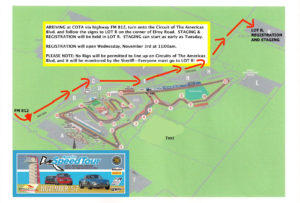 Supplemental Event Information
Contacts
Eligibility Contact: Rob Elson – rob@svra.com
Licensing Contact: Alex Miller – alex@svra.com
Vendor Sales/Car Show: Toni Strollo – tc@svra.com
Event Information Contact: Kathy Swinford – kathy@svra.com
PR Contact: Ashleigh Aungst – pr@parellamotorsports.com
Photo/Media Credentials: [Request Credentials] Pam Shatraw – pam@svra.com