2021 Watkins Glen SpeedTour
September 8 - 12, 2021 | Watkins Glen International - Watkins Glen, NY
In one jam-packed weekend, virtually the entire history of motorsport passes by…at high speed!
Postwar American road racing began on October 2, 1948, when Cornell student Cameron Argetsinger organized a race through the quaint little town of Watkins Glen. In 1956, the races were moved to Watkins Glen International, one of the first purpose-built road courses in the world. Since then, every major racing series has come to "The Glen," including Formula One, Can-Am, Trans-Am, IMSA, IndyCar and NASCAR. Its worldwide reputation, lavish facilities and unbeatable history draw racers from around the world to race at the US Vintage Grand Prix. One of the largest annual events at Watkins Glen as well as the most popular on SVRA's calendar, this special weekend brings together hundreds of vintage race cars of all ages, makes and models. This year, Alfa Romeo is being celebrated as the Featured Marque.
The annual downtown U.S. Vintage Grand Prix Festival, held on Friday, commemorates the early sports car road races that took place on the 6.6-mile course laid out on village streets. The high point of the Festival is a reenactment, with SVRA race cars driving the original Watkins Glen course to the cheers of 20,000 enthusiastic spectators. Join us and enjoy a great racing weekend at Watkins Glen International, plus a rare chance to drive your race car around 6.6 miles of living history!
OFFICIAL TEST DAY SCHEDULE  rev 8/26 – Please note, test day is on Wed. afternoon AND Thurs. morning
OFFICIAL RACE SCHEDULE rev 8/31
Event Supplemental Regulations – Including Golf Cart Insurance Requirements/Forms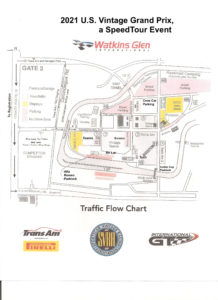 Contacts
Eligibility Contact: Rob Elson – rob@svra.com
Licensing Contact: Alex Miller – alex@svra.com
Vendor Sales/Car Show: Toni Strollo – tc@svra.com
Event Information Contact: Kathy Swinford – kathy@svra.com
PR Contact: Ashleigh Aungst – pr@parellamotorsports.com
Photo/Media Credentials: [Request Credentials] Pam Shatraw – pam@svra.com