How To Register for an Event
Using the SVRA Online Event Registration
In an effort to streamline event registration for SVRA event competitors, we've simplified the online registration process. Simply click on the registration link for an event, and follow the instructions.
These instructions are intended for SVRA drivers with existing accounts. If you are new and do not yet have an account, don't worry, we can assist you with that. Call us today and we will have you set up as quickly as possible.
Step 1. Review the Important Event Information
The first step in event registration is reviewing the event information, dates, location, and Terms & Conditions. Once you have carefully reviewed the information, indicate that you agree to the terms by clicking I Agree, Proceed With Registration.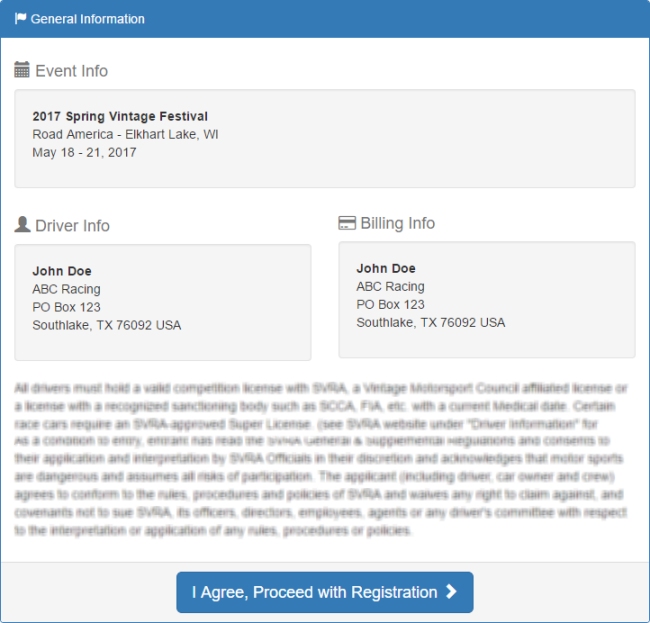 Step 2. Select A Vehicle
Choose a vehicle for this event. If you plan to register more than one vehicle for this event, that's no problem. On the last step of the registration process, you have the opportunity to register more cars. If you would like to add a new vehicle to your profile, click on Add a new car to my profile. Please note that a new car may not be eligible for registration on certain events. Once you have selected a vehicle, click Continue.
Step 3. Select Events and Additional Options
Choose the specific events in which you will be participating. This page also contains additional options such as dinner tickets, additional insurance, and incentives from our sponsors.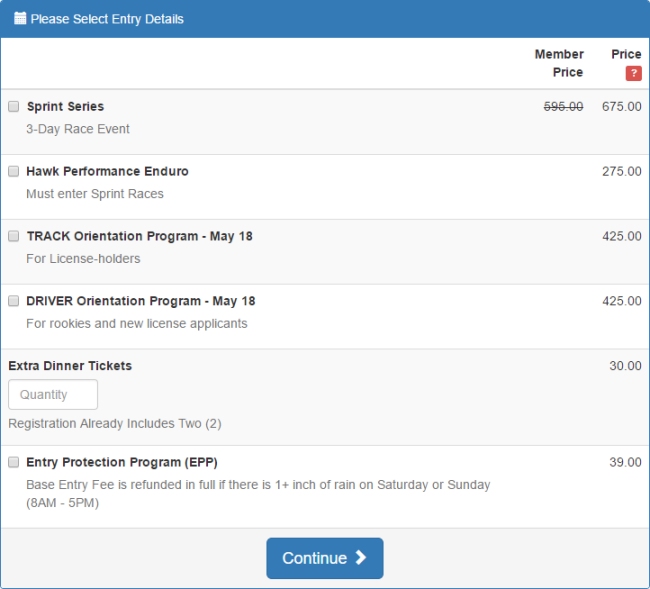 Step 4. Enter Additional Details
If you have a co-driver, crew members, or additional paddock parking information, it can be submitted on the following pages.


Step 5. Review the Entry Details
Carefully review the information you have provided. If there are any errors, click on change next to the particular item. If all the information is correct, click on Finish Registration to continue to the checkout page. If you would like to add additional cars for this event, click on Register Another Car. The current entry will be saved and the process will start over for your next vehicle.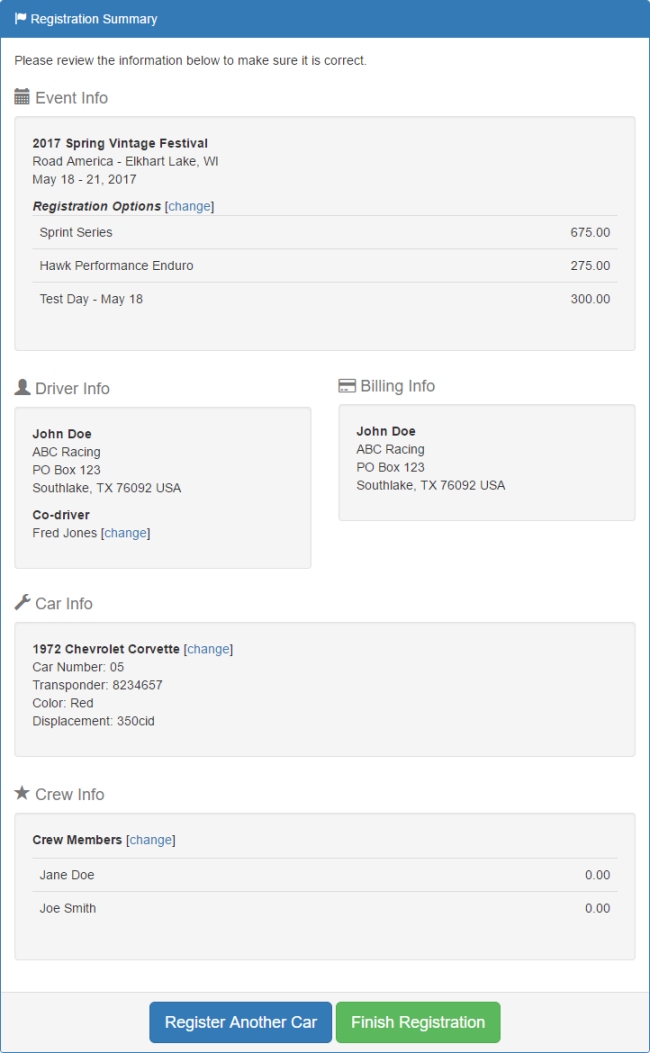 After clicking Finish Registration, you will be directed to the checkout page to enter your payment information. Once your payment information has been securely processed, you will received a confirmation number and email. This is your receipt for your registration. If you have any questions or need to make any changes, please contact us and we will be happy to assist.