Ford Heacock III and Ed Swart Inducted as the First Members of the SVRA Hall of Fame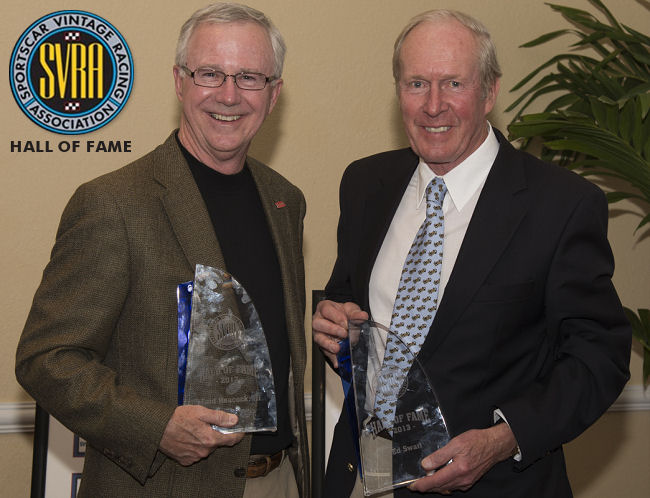 SVRA Class of 2012 Hall of Fame Inductees Ford Heacock III (left) and Ed Swart (right)
The Sports Car Vintage Racing Association held its annual Awards Banquet at Sebring Florida's Chateau Élan hotel on Saturday, March 2nd, 2013. As part of the evening's program the Association's President & CEO, Tony Parella, announced the induction of the Ford Heacock III and Ed Swart into the newly developed SVRA Hall of Fame. The Hall of Fame award will be presented at the annual awards banquet and is designed to recognize those members, past
and present, whose contributions to the sport of Vintage Racing have made today's level of prominence and professionalism possible.
Throughout his life Ford Heacock III has been a serious automobile enthusiast. A native of Sebring, FL, Heacock's family was involved in the early years of Sebring's international endurance races. His grandfather (Ford Sr.) was the first local chairman of the Sebring 12 Hours of Endurance and is a member of the Sebring International Raceway Hall of Fame. Retuning to Sebring after college, Heacock renewed his interest in automobiles and organized the first Vintage racing event in this country as part of the 1976 Sebring 12 hour endurance race. In 1981, he founded the Southeast Vintage Racing Association and one year later started Vintage Motorsport magazine as the nation's first publication devoted to Vintage Racing. In addition to his duties as President of Heacock Classic Insurance, he finds time to organize the annual Lake Mirror Classic Auto Festival in Lakeland Florida; is active in many community organizations; and recently completed the restoration of a 1953 Jaguar XK120.
Ed Swart, like Heacock, has been involved with automobiles his entire life. A native of the Netherlands, the Swart family ran a successful Fiat & Lancia dealership in The Hague from 1921-1979. Ed attended many races in the early 1950's; cut his teeth competing in rallyes and go kart events in the mid 50's, and entered his first sportscar race at the Zandvoort circuit in 1961. Family business ties resulted in Swart competing almost exclusively in Fiat-Abarths and he was selected to drive for Abarth factory team in 1965. Business commitments forced Swart
to retire from professional racing in 1971. Ed then became involved in race event organization serving as Clerk of the Course (Chief Steward) at Zandvoort for many years. He started Vintage racing in 1975, by campaigning a Ferrari 250 SWB competition model at many of the early European Vintage events. In the 1990's Swart immigrated to the United States and began competing in a Lola T400, Formula 5000 car on both the East and West coasts in 1996. In 1999 he started his own Vintage Racing organization, HSR-West, which now boasts over 600 active members. HSR-West was acquired by SVRA in 2012 and Swart continues as the organization's Director.