The SVRA's Entire Father's Day Weekend At IMS Streamed Live By FloRacing.com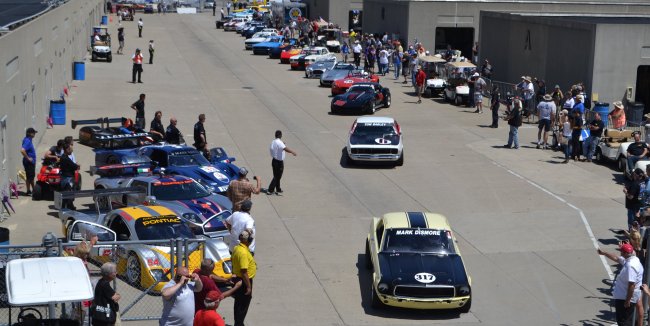 Thirty-three Indianapolis 500 veterans and NASCAR super star Bill Elliott have been paired with some of the top drivers and car owners of the Sportscar Vintage Racing Association (SVRA) for this Saturday's fourth annual Indy Legends Charity Pro Am at the Indianapolis Motor Speedway. The Saturday, June 17 feature event will be covered live through video streaming on FloRacing.com – as will the SVRA's entire Brickyard Invitational weekend, June 16-18.
"Last year when I heard Paul Tracy step out of Gary Moore's '65 Mustang and say, 'These guys are serious as a heart attack,' I was so proud," said Tony Parella, SVRA president and CEO. "With so many champion drivers throwing in with us like Al Unser, a four-time Indy 500 winner, I know fans recognize this event has grown into a mainstream date on the American motorsports calendar."
In addition to Unser, Elliott, and Tracy the Indy Legends Pro-Am field includes big marquee names such as Jimmy Vasser, Geoff Brabham, Roberto Guerrero, Davy Jones, Willy T. Ribbs, Sarah Fisher and Lyn St. James. A full-field list of all drivers and cars is attached. Elliott will share driving duties with legendary NASCAR crew chief Ray Evernham in a Carlus Gann owned and prepared 1970 Mustang – red, with the number, "9."
The field is a deck stacked with champions as every driver has won at some level of motorsport. They represent six Indianapolis 500 victories, seven Indy Car championships, 122 Indy Car race wins, three IROC championships, two overall Le Mans 24 wins, six overall Daytona 24 victories, 23 Trans Am wins and 12 Pikes Peak Hill Climb triumphs. Elliott adds his 1988 NASCAR Cup championship, 44 Cup-level race wins, two Daytona 500s and a win at the Brickyard 400 to the mix. Collectively, the 33 Indy 500 veterans account for 230 starts in the iconic race.
Previous winners of the Indy Legends Pro-Am include Al Unser Jr. and Peter Klutt (2014), Bob Lazier and Jim Caudle (2015), Paul Tracy and Gary Moore (2016) as well as Robby Unser and Andre Ahrle, who also won in 2016. Last year as with this year, the 2016 race was organized into A Production and B Production classifications. Unser and Ahrle won A Production, while Tracy and Moore took home the B Production awards.
The Pro-Am feature is a 45-minute race on the Speedway's 2.43-mile Grand Prix road course. The cars are racing machines from the "Group 6" SVRA class. As in previous years that will include 1963 to 1972 vintage Corvettes, Camaros, Cobras, and Mustangs but also this year Davy Jones and Larry Ligas will share a 1961 Jaguar XKE. As in the previous three years, the professionals and amateur drivers will split stints at the wheel at their discretion.
In addition to the Pro-Am, there will be a festival of other activities including the Motostalgia car auction, the Hagerty Insurance "shine and show" car corral, a motorcycle homage with vintage motorcycle racing and displays, and hundreds of vintage racers ranging over 100 years of automotive history racing in SVRA Groups 1 through 12. Harley-Davidson will formally unveil as the "Official Motorcycle of the SVRA." In addition, an oval exhibition featuring a racecar show of judged competition for the A.J. Watson and Sir Jack Brabham trophies led by track historian Donald Davidson will take place. Also, for the first time ever, the 51-year-old professional Trans Am series will compete as the Sunday afternoon feature race. Heading the pack will be series champion Amy Ruman who has won the crown the last two years.
Entry List – 2017 Brickyard Invitational Indy Legends Charity Pro-Am
00       A.J. Foyt IV/Chuck Bentley                    1967 Camaro Z28                            Silver
05       Al Unser/Tony Parella                              1972 Corvette                                  Red/White
2         Alex Lloyd/Dave Roberts                        1969 Camaro                                    Yellow
3         Sarah Fisher/Kirk Blaha                           1969 Corvette                                  Black
3         Jaques Lazier/Sam LeComte                    1969 Camaro                                    Red
6         Ricky Treadway/Chris Stillwell               1968 Mustang                                  White
7         Johnny Unser/Shannon Ivey                    1967 Camaro SS                              White
9         Bill Elliott/Ray Evernham                        1970 Mustang Boss 302                  Red/Black
11       Donnie Beechler/Matt Euson                   1965 Shelby GT350                         White/Blue
16       Johnny Parsons Jr./Steve Cole                 1969 Corvette                                  Black
17       Jimmy Kite/Mark Rife                             1969 Corvette Roadster                   White/Red
18B    Pete Halsmer/Alain Vinson                      1966 Shelby GT350                         White/Blue
23       Max Papis/Curt Vogt                               1970 Mustang Boss 302                  Blue
27       Ana Biatriz/Phil Mulacek                         1966 AC Cobra                                Blue
27       Bob Lazier/Jim Caudle                             1969 Corvette                                  Silver
28       Robby Unser/John McCormick                1965 Cobra Comp R                        Red
33       Josele Garza/Bob Lima                            1969 Corvette                                  White
33       Davey Hamilton/George Del Canto         1969 Mustang                                  Black
36       Willy T. Ribbs/Edwarad Sevadjian          1969 Corvette                                  Gray/White
37       Richie Hearn/Clair Schwendeman           1968 Corvette Roadster                   Red/White
42       Al Unser Jr./Peter Klutt                           1969 Corvette                                  Blue/White
46       Roberto Guerrero/Jody O'Donnell           1969 Corvette                                  Black
61       Davy Jones/Larry Ligas                           1961 Jaguar XKE                            Blue/Red
63       Geoff Brabham /Mike Donohue              1963 Corvette Roadster                   White
63       Darren Manning/Robert Korzen              1966 Mustang                                  White/Black
64       Dick Simon/James Heck                          1964 Corvette                                  Black
73       Cory Witherill /Clark Howey                   1966 Corvette                                  Yellow
76       Dennis Firestone/Scott Brady                  1969 Corvette                                  White
98       Paul Tracy/Gary Moore                            1965 Shelby GT350                         White/Blue
125     Jimmy Vasser/Matt Parent                       1969 Corvette Roadster                   Red/Yellow
200     John Martin/Patrick Sessions                   1966 Shelby GT350                         Green/White
317     Mark Dismore/Scott Hackenson              1967 Mustang                                  Yellow/Black
622     Lyn St. James/Debbie Cloud                   1966 Shelby GT350                         Green/White
777     Scott Harrington/Doug Oberneyer           1968 Mustang                                  Green