Four-Time Indy 500 Champion At May 31-June 3 Sonoma Historic Motorsports Festival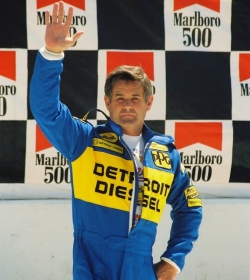 Sportscar Vintage Racing Association (SVRA) today announced that Al Unser will serve as grand marshal for the May 31 – June 3 Sonoma Historic Motorsports Festival, one of their most important events of the season. The 12-turn, 2.52-mile Sonoma Raceway is an American epicenter of elite car collections and an ideal venue to showcase SVRA's Gold Medallion cars. The Gold Medallion program certifies cars for their authenticity and historical significance.
"Al has been a great friend to SVRA and this is not the first time he has honored us with his presence," said President and CEO Tony Parella. "It was a pinch-me moment for me last year when I had the opportunity to be his co-driver at the Brickyard Invitational. There have been a lot of great legends in the history of auto racing, but in my book, Big Al is right at the top of the mountain."
"All of us at the Unser Racing Museum in Albuquerque appreciate history and the outstanding and important cars of our past," Unser said. "The cars that show up at this event are exceptional and I look forward to roaming the paddock. I never fail to see old friends and great fans at SVRA events."
Unser, one of only three drivers to win the Indianapolis 500 four times, is also a three-time Indy car champion (1970, '83, '85). He was among the rare breed of racers who could drive any type of car at any venue, including sports cars, stock cars, modifieds and dirt cars. A four-time Hoosier Hundred victor, he drove and won in sprints, midgets, Formula 5000 and stock cars to name a few. The Hall of Fame superstar was USAC stock car rookie of the year in 1967 and IROC champion in 1978. In his final Indianapolis 500 win (1987) he broke Ralph DePalma's 67-year-old record for most career laps led in the historic race. He has a career total 39 Indy car race victories. Unser competed in an IndyCar race at Sonoma in 1970, finishing third to create a Hall of Fame podium with Dan Gurney and Mario Andretti.
The Sonoma Historic Motorsports Festival will present a variety of attractions. In addition to some 200 vintage race cars across a variety of classes, the event will mark the first of three appearances by the Pre-1920 Exhibition Series during the year. The others will be at the Indianapolis Motor Speedway and Watkins Glen. The cars involved are extremely rare, in some cases the only example in existence. Long retired brands including Mercer, Packard, EMF, and Locomobile are part of the series. The National that finished seventh in the first Indianapolis 500 in 1911 is entered. These unique and amazing machines will be part of their own run group. They will also have a special paddock corridor with in-period tools, spares, and other equipment on display. Drivers and riding mechanics will dress in the apparel of the early days, including leather helmets.
Another feature of the weekend will be the popular Historic Trans Am group. They will also have their exclusive practice, qualifying, and race sessions. These are the actual cars of the glory days of Trans Am featuring the original Camaros, Mustangs, Challengers, Barracudas, and Javelins as driven by the great talents of the era including Dan Gurney, Parnelli Jones, and Mark Donohue.
SVRA sponsors Jaguar and Land Rover will also be on hand to present arrive and drive experiences. Anyone with a valid driver's license and closed-toe shoes can drive the cars. Professional drivers will coach fans who want to challenge their skills and feel the performance of a Jaguar F-Type on a certified autocross course.