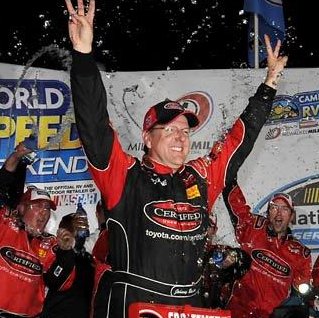 Johnny Benson, Jr. Joins Six Other NASCAR Champions In Race At VIR
Sportscar Vintage Racing Association (SVRA) announced today that Johnny Benson, Jr., who won championships in the Busch (now Xfinity) series and Camping World Trucks has entered the September 22 "American Racing Legends Charity Pro-Am Presented By RACER Magazine" at Virginia International Raceway (VIR). Six other drivers who will join him boast NASCAR Champion credentials, including Bill Elliott, Bobby Labonte, Greg Biffle, Ron Hornaday, Mike Skinner and Todd Bodine. Daytona 500 winner Ward Burton and his son, Jeb, are also entered.
"This starting lineup will be packed with talent," said SVRA CEO Tony Parella. "Our focus is NASCAR, but we have champions from an array of disciplines. What's more, the level of accessibility fans will have to these racing heroes will be unprecedented with autograph sessions, a pit walk, and lots of time for pictures."
Superstars entered include two-time Indy 500 winner Al Unser, Jr., and the famous NASCAR "road course ringers," Ron Fellows, Boris Said, and Dorsey Schroeder. Other masters of road racing in the lineup are Wally Dallenbach, Jr., Willy T. Ribbs, and Max Papis. All have NASCAR on their resume and have had tremendous success in Trans Am and/or IMSA sports car competition. SVRA officials have deliberately set about giving their pro-am events an IROC quality and many of these drivers once competed in that elite invitational championship.
Benson is one of only 37 drivers to have won a race in all three of NASCAR's major series – Cup, Xfinity, and Trucks. He is also one of only three drivers to have won championships in Xfinity and Trucks, the others being Biffle and Austin Dillon. Early in his career, Benson also scored an American Speed Association (ASA) championship in 1993. He was ASA rookie-of-the-year in 1990, and also won the same honor after stepping up to the Cup series in 1996. Benson has a career total of 18 NASCAR race victories with one in Cup, three in Xfinity, and 14 in Trucks. His Xfinity and Truck championships came in 1995 and 2008 respectively. He represented the Xfinity series in the IROC invitational in 1996, finishing an impressive third in the season standings.
In addition to the new Pro-Am, the professional Trans Am Series Presented by Pirelli Series will join SVRA at VIR. Trans Am and SVRA continue to leverage growth for both series by sharing the track at eight event weekends in 2018. This approach delivers a motorsports festival atmosphere. Fans can expect more of the Hagerty Insurance "show and shine" car corrals and a marketplace of accessory, memorabilia, art, and apparel vendors. The event includes an entire weekend of racing with hundreds of vintage cars competing in a variety of classifications.
The VIR event will benefit IGNITE – the Autism Society of North Carolina's community center for young adults with high-functioning autism or Asperger's syndrome. IGNITE was founded by The Evernham Family Racing for a Reason Foundation – a nonprofit established by legendary NASCAR crew chief Ray Evernham and his family. Evernham will compete in the race as an amateur.