Dick Simon, Rick Treadway and Scott Harrington Enter "Indy Legends" Pro-Am at IMS
The Sportscar Vintage Racing Association (SVRA) today announced one of the most important names in the history of the Indianapolis "500," Bill Vukovich II, will serve as "Honorary Steward" for this Father's Day weekend (June 16-19) Brickyard Invitational at the Indianapolis Motor Speedway (IMS). Vukovich, along with Michael Andretti, is one of only two drivers in the history of the race to have both a father and son also qualify for the classic contest. Bill Vukovich Sr., who won in 1953 and 1954 and lost his life while leading the race in 1955, is still remembered as one of auto racing's all-time greats. Bill Vukovich III qualified for three Indianapolis 500s, 1988-1990.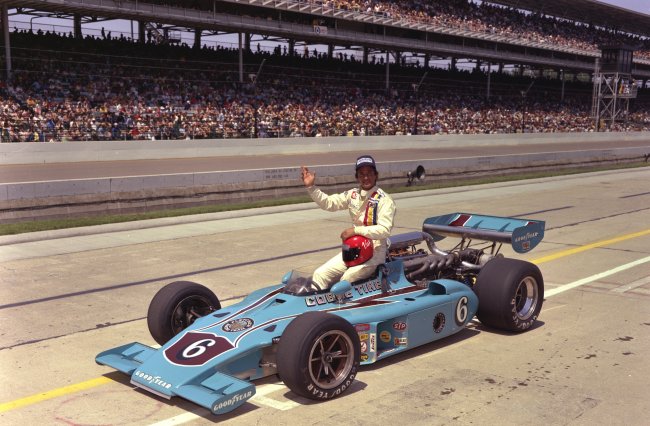 "We are tremendously honored to have Bill join us, especially at the Brickyard Invitational," said SVRA President and CEO Tony Parella. "I know his many fans will be delighted to see him again and, of course, there is no more legendary Indianapolis 500 family name than Vukovich. This is very special to the SVRA."
Bill Vukovich II qualified for 12 Indianapolis 500 Mile Races, with a best finish of second in 1973. He followed that up the very next year with an impressive third place. Vukovich won the race's rookie-of-the-year trophy in 1968 while driving for the legendary auto racing promoter J.C. Agajanian. In his 17-year Indy car career he had 158 starts and 85 top-ten finishes including a victory at Michigan International Speedway in 1973. Vukovich, who scored an impressive 23 wins in top-level midget car racing, was inducted into the National Midget Auto Racing Hall of Fame in 1998.
The SVRA today also announced that Indianapolis 500 veterans Dick Simon, Rick Treadway and Scott Harrington have entered the feature event of the weekend, the "Indy Legends" Charity Pro-Am. The three will join a field of drivers who will compete in a 40-minute competition of American muscle cars on the Speedway's 2.43-mile Grand Prix road course on Saturday, June 18. All drivers will be in 1963 to 1972 vintage Corvettes, Camaros and Mustangs of the "Group 6" SVRA class.
Dick Simon is one of the most wonderful characters of Indianapolis 500 history. Brimming with personality he saw the promotional value for his sponsors of being the first car to take to the track when practice opened in May. A veteran of 17 Indianapolis 500s, he scored a best finish of sixth in 1987. He was a highly respected team leader who helped launch the careers of such notables as two-time Indianapolis 500 winner Arie Luyendyk and 1992 Rookie-of-the-Year Lyn St. James.
Scott Harrington began his motorsports career on two wheels earning success in both AMA Motocross and Supercross. He transitioned to four wheels racing in Formula Atlantic and SCCA Can-Am, where he won the 1992 series championship. He earned a starting spot in the 1996 Indianapolis 500 and later won the rookie-of-the-year award for the series in 1999, his first year running the full season. Rick Treadway raced in the Indy car series for two years, qualifying for the 2002 Indianapolis 500. He is the son of Fred Treadway, who won the 1997 Indianapolis 500 as a car owner.
This year's Pro-Am is attracting new and exciting names such as 2003 Indy car champion Paul Tracy as well Larry Foyt and A.J. Foyt IV. In a new twist, a "Garage 34" promoter's option brings NASCAR stars Bill Elliott and Ray Evernham into the field. Two-time Indianapolis 500 winner Al Unser Jr., who won the inaugural Pro-Am in 2014, will return as will 2015 champion Bob Lazier. Unser's cousins Robby and Johnny are entered along with other notables such as Willy T. Ribbs, Lyn St. James and 24 Hours of Le Mans overall winners Geoff Brabham and Davy Jones. Today's entries bring the confirmed field total to 31 but SVRA officials expect 33 Indy 500 veterans to take part as in 2015. Professionals in the Pro-Am will be paired with amateur drivers, splitting stints at the wheel at their discretion.
In addition to the Pro-Am, the Brickyard Invitational offers a festival of racing activities. As in previous years the SVRA will present exhibition runs on the storied 2.5-mile oval by a wide variety of cars including several of the crowd-favorite 1950's Indianapolis 500 "roadsters." The 2016 weekend not only promises a huge gathering of hundreds of racecars but also some of the finest collector cars. Motostalgia, with offices in Austin, Texas, Mexico City and Monaco will stage an auction of select automobiles from around the world. The Brickyard Invitational will also expand out onto the world-famous infield IMS golf course with car corrals for organizations and clubs united by special marques and vintages as well as its "Shine and Show" car show. Saturday evening entertainment will include a concert by the legendary rock band, "Three Dog Night," capped off by a trademark SVRA mega-fireworks show.
The SVRA has 11 groups of racecars spanning 100 years of vintage machines. The array of entries at IMS will include select pre-war machines, classic sports cars, Formula One and Le Mans prototypes as current as 2011. All will compete in three days of racing on the Speedway's Grand Prix road course. Race fans can enjoy every minute of the action with overnight camping inside IMS. Pro-Am cars and drivers will also participate in a Fan Walk through the starting grid prior to the opening ceremonies allowing spectators to see the cars up close, take photos and chat with the drivers. All entry fees will be donated to the Indianapolis Motor Speedway Museum Foundation and the Hagerty Education Program.
Brickyard Invitational ticket information: Fans can order Brickyard Vintage Racing Invitational tickets for all or any one of the four days of the event online through the Speedway or by calling 800-822-INDY or 317-492-6700 between 8 a.m.-5 p.m. (ET) Monday through Friday. Fans can also visit the ticket office at the IMS Administration Building at 4790 West 16th Street between 8 a.m.-5 p.m. (ET) Monday through Friday. Tickets for groups of 20 or more also are available. Contact the IMS Group Sales Department at (866) 221-8775 for more information. Children 12 and under are admitted free each day when accompanied by an adult. Tent camping passes in the IMS infield start at $30 and are available all four days.