Hall of Fame IMS Historian to Give Command to Start Engines for Indy Legends Pro-Am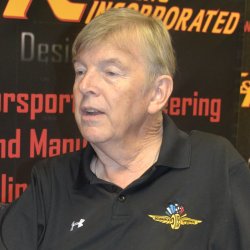 The Sportscar Vintage Racing Association (SVRA) today announced that Indianapolis Motor Speedway Historian and Auto Racing Hall of Fame member Donald Davidson will serve as grand marshal for its Father's Day weekend (June 16-19) Brickyard Invitational at the IMS. Davidson became IMS historian on January 1, 1998 and is believed to be the only full-time historian employed at any race track in the world.
"I make no apologies for drafting off the huge success of the 100th running of the Indianapolis 500, and there is no better way to do that than to recognize the most knowledgeable person in the world about the great race," said SVRA President and CEO Tony Parella.
Davidson, born in England, moved to Indianapolis in 1965 and secured full-time employment as statistician for the United States Auto Club (USAC). He has built a multi-faceted career that includes work as a radio personality, author, lecturer and moderator. On May 27, 2010, he was inducted into the Auto Racing Hall of Fame, and on October 3, 2013 the Indiana Broadcast Pioneers Hall of Fame granted him a similar honor. In May 2016 the Indianapolis Star proclaimed him one of the 100 most influential people in the history of the Indianapolis 500 and Governor Mike Pence named him a Sagamore of the Wabash, the highest honor the State of Indiana can bestow upon a civilian.
Davidson led a distinguished team of race drivers and master mechanics in the first two Brickyard Invitational events to select special cars for recognition with SVRA awards like the A.J. Watson trophy for best roadster. He also moderated event press conferences and addressed the Pro-Am driver's meeting that included heroes of past Indianapolis 500s.
"Tony Parella and his SVRA team have demonstrated a great deal of respect for IMS history," Davidson said. "I am humbled to think I will have the honor of giving the command to start engines for a race with Indianapolis 500 veterans I have respected and celebrated for so many years."
The "Indy Legends" Charity Pro-Am is the feature event of a weekend jam-packed with 11 SVRA run groups racing on the Speedway's 2.43-mile Grand Prix road course. The Pro-Am is full with 33 Indianapolis 500 veterans plus a "Garage 34" promoter's option bringing NASCAR stars Bill Elliott and Ray Evernham into the field. The drivers will compete in a 40-minute competition of American muscle cars on Saturday, June 18. All drivers will be in 1963 to 1972 vintage Corvettes, Camaros and Mustangs of the "Group 6" SVRA class. Entry fees will be donated to the Indianapolis Motor Speedway Museum Foundation and the Hagerty Education Program.
The Brickyard Invitational offers a festival of racing activities. As in previous years the SVRA will present exhibition runs on the storied 2.5-mile oval by a wide variety of cars including the crowd-favorite 1950's Indianapolis 500 "roadsters." Motostalgia, with offices in Austin (Texas), Mexico City and Monaco will stage an auction of select automobiles from around the world including offerings from four-time "500" champion Al Unser and legendary NASCAR crew chief Ray Evernham. Saturday evening entertainment will include a concert by the legendary rock band, "Three Dog Night," capped off by a trademark SVRA mega-fireworks show.
Brickyard Invitational ticket information: Fans can order Brickyard Vintage Racing Invitational tickets for all or any one of the four days of the event online through the Speedway or by calling 800-822-INDY or 317-492-6700 between 8 a.m.-5 p.m. (ET) Monday through Friday. Fans can also visit the ticket office at the IMS Administration Building at 4790 West 16th Street between 8 a.m.-5 p.m. (ET) Monday through Friday. Tickets for groups of 20 or more also are available. Contact the IMS Group Sales Department at (866) 221-8775 for more information. Children 12 and under are admitted free each day when accompanied by an adult. Tent camping passes in the IMS infield start at $30 and are available all four days.