SVRA's Charity Pro-Am Series A Battle Of Titans In The Mold Of Original IROC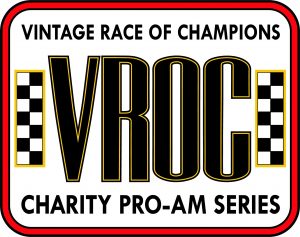 Al Unser, Jr., Willy T. Ribbs, Davey Hamilton, Lyn St. James and Max Papis have filed entries for Sportscar Vintage Racing Association's (SVRA) first-ever Vintage Race of Champions (VROC) at Road Atlanta on March 29 and 30. VROC builds on the success of the SVRA Charity Pro-Am races that began at the Indianapolis Motor Speedway in 2014. Other VROC Series races are planned for the Indianapolis Motor Speedway in August, and Virginia International Raceway in September. Plans call for two points championship trophies to be awarded – one for both an amateur and a professional racer.
These first entries set up a classic inter-disciplinary battle of titans reminiscent of the venerated original IROC series. SVRA officials report that champions from other fields, such as the various levels of NASCAR and sports car racing, will inevitably enter as well.
The new Road Atlanta Charity Pro-Am will support Hope For The Warriors, a national nonprofit organization that provides assistance to combat-wounded service members, their families, and families of those killed in action. The organization focuses on those involved in Operation Iraqi Freedom and Operation Enduring Freedom and their families. The SVRA race weekend will run during their Month of the Military Child.
"These drivers are not only racing legends, but over the years have become dear friends," said SVRA CEO Tony Parella. "They are best known for their achievements at the Indianapolis 500, but also they have collectively won untold races and championships across virtually every discipline of the sport."
Collectively the five champion drivers represent two Indianapolis 500 victories, 37 Indy car race wins, two Indy car championships, an IROC championship, a Can-Am championship, three overall 24 Hours of Daytona wins, 19 Trans Am victories, an Indy 500 rookie-of-the-year trophy, and 13 IMSA sports car victories as well as numerous other successes across a variety of disciplines and major events. The combined experience of this elite group includes, in addition to Indy cars, all the major categories of auto racing such as Formula One, 24 Hours of Le Mans, 24 Hours of Daytona, 12 Hours of Sebring, the three major NASCAR series, World of Outlaws, and short track racing in general.
Al Unser Jr. is a two-time Indy car champion (1990 and 1994) and the winner of 34 Indy car races including the 1992 and '94 Indianapolis 500s. He was Indy car series champion in 1990 and again in 1994. His 1992 Indianapolis 500 victory is the closest finish in history with a margin of just 43 ten-thousandths of a second over runner-up Scott Goodyear. A versatile driver, he was a winner in World of Outlaws sprint car racing, 1982 Can-Am champion, and IROC champion in 1986 and again in 1988. He's also a two-time winner of the 24 Hours of Daytona in 1986 and '87. Like his father Al Unser Sr. and Uncle Bobby Unser he enjoyed tremendous success as a star driver for Roger Penske's team, which provided his winning entry for the 1994 "500."
Willy T. Ribbs is the first black driver to qualify for the Indianapolis 500. He did so twice, in 1991 and again in 1993. He also tested for a Formula One seat, in 1986 with Bernie Ecclestone's Brabham team. He was Trans Am's most prolific winner from 1983 through 1985 when he scored 18 of his 19 career-total victories. He was series rookie-of-the-year in 1983, winning five times and more than any other driver. After Trans Am, he moved to Dan Gurney's IMSA Toyota team for two years and picked off 10 overall victories.
Davey Hamilton, who is renowned for his mastery of super-modified racing, competed in 11 Indianapolis 500s with three top-10 finishes including a fourth place. He finished in the runner-up spot twice in the Indy car season championship and in 2014 raced in Robby Gordon's Stadium Super Truck Series. Hamilton is a leader both on and off the track. He was founder of the "King of the Wing" sprint car series and has been active as an Indy car owner. Last year he served as driver coach and consultant at the Carlin IndyCar race team.
Lyn St. James is a seven-time starter in the Indianapolis 500 and the event's rookie of the year in 1992. While many fans know Lyn best for her Indianapolis 500 achievements, she is an accomplished road racer and has earned numerous laurels at the wheel of a variety of race cars. She is a two-time competitor in the 24 Hours of Le Mans (1989 and '91). She was even more successful in 62 IMSA GT events, amassing a record of six wins, 17 top-five and 37 top-ten finishes. Her 1985 GT victory at Watkins Glen remains the only time a woman has scored a win in that series driving solo. Lyn raced in the 12 Hours of Sebring nine times, winning the GTO class in 1990, and was a two-time winner in the GTO Class at the 24 Hours of Daytona. She has held 31 international and national closed-circuit speed records and is a member of the Florida Sports Hall of Fame and the SCCA Hall of Fame.
Max Papis has driven in virtually every major series this side of drag racing. This includes Formula One, NASCAR, Indy car racing, Le Mans as well as V8 Supercars and IROC. The versatile driver competed in two Indianapolis 500s for 1998 race winner Eddie Cheever and won three Indy car races for Bobby Rahal's team. In NASCAR he raced Sprint Cup, the Nationwide Series, and the Camping World Truck Series. He competed in seven 24 Hours of Le Mans contests, scoring a class podium in five of those events along with top-10 overall finishes on four occasions. Papis also won two 24 Hours of Daytona races – including an overall win in 2002. He has also started in more NASCAR races than any European driver in history.
SVRA officials have set a goal of expanding the VROC series to five races with a television package and entitlement sponsor by 2020. As with previous pro-am races, the cars are 1963 to 1972 vintage Corvettes, Camaros, and Mustangs of SVRA "Group 6" A and B Production.