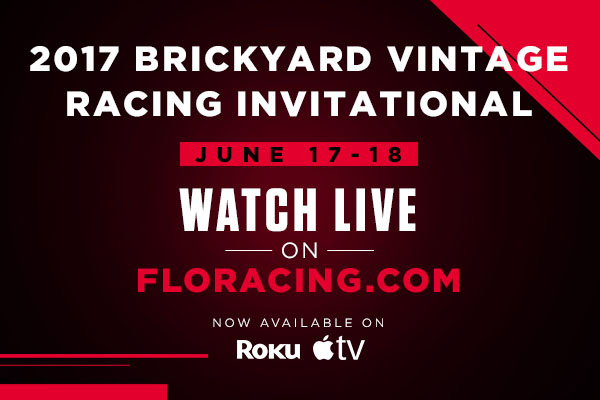 America's Premier Vintage Racing Series Expands Visibility, Sponsorship Value
The Sportscar Vintage Racing Association (SVRA) announced today that it has reached an agreement with FloRacing, a division of FloSports, the innovator in live digital sports and original content, to present live video coverage of the Brickyard Invitational at the Indianapolis Motor Speedway during Father's Day Weekend, June 16-18, 2017. Covering more than 20 sports, FloSports continues to transform the sports media industry and deliver the authentic sports content consumers want.
"This is another important step forward as we extend the influence of the SVRA brand and create value for our sponsors, build a consumer fan base, and tell our story of enthralling racing and the motorsports festival experience," said Tony Parella, SVRA president and CEO. "Our sponsor investors and motorsports industry influencers I have spoken with recognize the increasing impact of Web-delivered streaming coverage of sports and news."
"Since launching earlier this year, FloRacing has attracted a lot of attention and it's in part thanks to partnerships with leading organizations like SVRA," said Phil Wendler, FloSports SVP of Global Rights Acquisition and Subscription. "From compelling action on the track to superstar drivers, The Brickyard Invitational attracts the most passionate racing fans. Our work with SVRA will enable us to give racing fans worldwide an up-close and inside look into all that the event has to offer."
The announcement comes as the SVRA expands as America's fastest-growing road racing series. Top brands continue to partner with the SVRA to provide members with best-in-class products and services. Most recently, Harley-Davidson was named the official motorcycle of the SVRA. Other top brands partnering with America's premier vintage racing organization include Jaguar, Land Rover, Capital One Spark Business, NetJets, Sunoco, Zenith Watch, Robert Talbott, Mazda, Hoosier Tire, TRITEC, Safecraft and National App.
SVRA officials report consistent annual triple-digit growth since 2012. The sport has rapidly grown from a regional activity largely concentrated in the southeastern United States to one that spans the continent at most of America's top race courses. Just since the beginning of the year it has expanded its schedule to include its first hill climb near the legendary "Tail of the Dragon" roadway in Western North Carolina as well as an exciting new two-weekend extravaganza at the Indianapolis Motor Speedway – which includes the fourth annual Brickyard Invitational.
About FloSports
FloSports, the innovator in live digital sports and original content, partners with event rights holders and governing bodies to unlock a world of sports coverage that true fans have been waiting for. Through live streaming of premier events, original video programming, and weekly studio shows, FloSports is growing the sports, the athletes, the events and the fans. Current verticals under the FloSports header are Basketball, MMA, Wrestling, Track, Gymnastics and more. To learn more, visit FloRacing.com.
SVRA Brickyard Vintage Racing Live