Story by Art Hebert & Friends – Photos by George McClure

I think I heard about the SVRA National Championship sometime around the early part of 2013. Friend and fellow Formula Jr. racer Dan Chapman (Cooper T-56) called to say there was going to be a vintage National Championship race at the new Circuit of the Americas Formula One track the following fall. He said if we came, he and wife Brenda would put us up at their place in New Braunfels, Texas. He also threw down a challenge that he didn't think the west coast Juniors could beat the fast east coast, or quick central U.S. Juniors. Finally, he guaranteed lots of margaritas, parties, and good fun for those who dared come. It was too delicious an offer, and challenge, to turn down. So, father-in-law Don Sandy, brother-in-law Jim Sirois and I decided we would figure out a way and go.
As the race date neared, Karol Andrews kept us, and many other FJ, drivers informed and organized about what we were supposed to do, and where to go. God bless her. She made it very easy. Without someone leading us by the nose, we usually cannot get out the door, let alone all the way to Texas with the proper registration in place. Larry Reyburn's reminder e-mails were also a great help in helping us anticipate what we would find when we got to COTA, and what to bring for the trip. The Formula Junior tent that he organized turned out to be just great. We had enough room, yet were close enough to all feel like a tight knit group, sharing tools, chairs, food, drink, and a great camaraderie.
Well, Jim and I pulled out from my house just north of San Francisco at midnight, on October 20th to head to Austin. We had my wife's 2004 Ford Expedition and our 1963 Lola Mk.5A in tow on our open trailer. As soon as we pulled away from the house "poof!" all the lights went out on the trailer. For the next hour and a half we kept looking for shorts with a flashlight, and stealing other fuses out of the Expedition's fuse box to keep the trailer lights on. Finally, on the side of the road somewhere in Berkeley, we found a burnt wire, taped it up, and we were on our way. The only problem was that we had robbed so many fuses out of the fuse box that we no longer had a radio, heater, air conditioner, gauge lights, power windows, interior lights, door locks, windshield wipers, etc. However, what we did have was a running truck and a trailer with most, not all, lights working. Good enough. On we went.
We drove straight through to Texas in 36 hours, stopping only for fuel, and to visit son Matt, who was starting his freshman year at the University of Arizona in Tucson. As we crested a rolling hill in Austin, the Circuit of the Americas came into view. It was huge, sprawling, and magnificent. We could not believe we were really going to get to race there. Wow.
We were among the first Juniors to arrive that Tuesday afternoon. Fellow Californians Karol Andrews and Jimmy Domingos were already there with their very fast 1962 Cooper T-59. Texan Jim Yule was also there with his Cooper T-56. We were slotted in between Jim Sharp, driving his father's original Cooper T-56 (how cool is that?!), and Dan Chapman's Cooper. John Breidenbach and his Lotus 18 were next to Dan.
Receiving my vote for the craziest, most adventurous, guy under the FJ circus tent was Roger Ealand. Roger, along with his charming wife Margaret, came all the way from Australia to race a Lotus 18. The crazy part was that Roger had just purchased the car, sight unseen, straight off eBay!
Next to Roger was Nick Grewal and his gleaming Lotus 27. Nick also brought a Lotus 18 for FJHRA leader, Duncan Rabagliati to drive. That is one of the things I most admire about our group; the people. Nick's generosity made it possible for yet another person to take part in this very special event. I would later learn that Jim Yule also brought a second car, a front engined Elva 100, for Bill Haga to drive. Great cars, even greater people.
I must say that Duncan Rabagliati is one of the bravest driver's I know. More than once I have seen him at a Formula Junior event behind the wheel of an unknown car. He straps his helmet on, grits his teeth, and heads off into the wild unknown, hoping most of the nuts are tight, and the wheels are pointed in a remotely correct direction. Mair, Duncan's wife, was there too, not only supporting Duncan's run at the National Championships, but also rallying the troops for photo ops, and spreading good cheer to all throughout the week. Cheers to you, Mair!
After unloading and greeting friends, we headed to Dan and Brenda Chapman's. They were already putting up Jim Sharp, and the Chapmans were soon putting up with me and brother-in-law Jim. As promised, storytelling and laughter flowed as freely as did the libations. Ask Dan sometime about being a Golden Gloves boxer at Madison Square Garden in New York, or "The Gates of Heaven" story. Or ask Brenda about "The Greatest Story Ever!" I knew we were in Texas for sure when Jim Sharp grilled up some nearly two inch steaks on the outdoor grill. Wow! The Honorable Judge Brenda Chapman was presiding at this party and all were ordered to have a great time!
Wednesday arrived and we rolled our Juniors onto the course. COTA has so many turns I could not remember which one I was in and what was coming next. With Ford GT 40's and production cars running by my side, I felt pretty small out there but I slowly started to find a way around the track. When we came in, we were all wide-eyed about how cool it all was, and how clueless we all were. There was much to be learned.
"Professor" Jimmy Domingos, and a few others, had signed up for a short drivers school to learn the course. I call Jimmy "The Professor" because he is a real student of race car driving. If you want to know how to get around a track, ask, or follow if you can, Jimmy. He taught me more about driving Laguna Seca in 10 minutes than I could have learned in 10 years. When I heard Jimmy was "going to school" I knew anyone who wanted to win overall was in trouble. However, I also knew we had a great teammate in our west coast vs. the rest of the country FJ battle. Sure enough, pretty quickly Jimmy started turning some fast laps.
Each time we went onto the track we all got a little better. I thought I was starting to get things a bit sorted out after a few practice sessions when I saw Jimmy closing in from behind. Now all over me, and ready to pounce, I noticed Jimmy's number had changed from 59, to 4. This wasn't Jimmy at all. It was local Texan, Robert Hoemke! Holy cow! Robert had brought both his T-59 Cooper Formula Junior and his Mini Cooper to the Nationals. He had signed up for all 8 practice sessions in a single day! His sprained wrist and broken blood vessels in three fingers attested to the effort he was putting in to learn the track and run at the front. Well, he drafted me down the front straight and we went wheel to wheel into turn one. We both went too deep, but thankfully stayed on the black stuff. Robert was by and took off. He was serving notice that Texas was up for a fight, and they had some gunslingers to prove it.
Meanwhile, the battle of the drum brake group was shaping up too. Roger in his eBay Lotus 18 was going well. After each session he would pop around chatting up everyone and spreading good Aussie/English cheer. However, if you looked closely into his eyes, you also saw that unmistakable "I really like you, but I will beat you" look in his eyes. All great fun. Game on! Breidenbach continued to take seconds off his laps each time out. Dan Chapman still wasn't even at the track yet, as he had committed to attend a reception in which his daughter, Janell, was going to receive an award. Quality guy. Formula Junior guy.
Even though we were all having a great time, not everything was perfect. Bob Goeldner had already suffered a broken ring & pinion in his very quick Brabham BT-6, and was out. In addition to fighting off his bumps and bruises, Robert Hoemke also had a warped front brake rotor, which was giving him fits under braking. He would have to pump his brake pedal several times just to get something of a pedal as he approached each corner. This was not for the faint of heart, especially at COTA!
Bob Mirabile, ran into engine trouble as well with his Lotus 18. However, being Bob, and being committed to making this one of the best Formula Junior races ever held, he dug deep and brought out a second Formula Junior to make the grid. This car was a 1961 Lola Mk.3, the first Lola Mk.3 constructed, and the only one with an alloy body. Not only was this was Lola's very first mid-engined car, it also introduced the world to the new Hewland gearbox. This Mk.3 began its racing career in the capable hands of future F1 star John Surtees, and was now rolling off the truck to race some 50 years later at one of the newest F1 circuits in the world. Thank you Bob, and everyone else, for bringing out all these great historic Juniors!
We were also starting to run into problems ourselves. Several things were starting to snap on our Lola, including both rear axle donuts. The throw out bearing was also squealing badly, and about to give up. Jim Sirois and I went to work. We went to Home Depot and bought a generator because we anticipated we might have some long nights and we did. Sometime between 10 and midnight, you can discover who your friends are. Scott Drnek, of Virtuoso Performance, came by to check on us and help with pulling the transmission out. Shortly thereafter we heard another voice in the dark, Jeff Weigert from Taylor Race Engineering, the Hewland gearbox folks from Plano, north of Dallas. Jeff had heard we were having clutch problems and came by to see what parts we needed. Without those guys we would not have been on the grid for qualifying on Friday. It just would not have happened. Sometime after midnight, we killed the generator and glow of the lights faded out. Then all we could see were the moon and stars, and all we could hear were crickets. It was serene and peaceful. Awesome.
Qualifying was great. As a group, we had moved from toddlers tip-toeing around the track to purposeful racers trying to get a good starting spot on the grid. The best part was coming down the main straight and looking up at the timing tower. There on the tower you would see your car number, and what position you were in. How cool is that? For a moment I was Mario Andretti, racing at the Indianapolis 500 with my number up on the timing tower. Awesome!
The track, it seemed, had everything. It was super smooth and wide. Lots of opportunities to pass, and very forgiving if you made a mistake. There was lots of runoff room, and extra paved areas to help you save the car if your brilliant pass move turned out to not be so brilliant after all. It had up hills, down hills, on camber and off camber turns. There were fast sweepers and super tight slow corners. There were esses and long straights. It felt like you could drive there for many years and always find something new to challenge you.
After the Friday track session the drivers and spouses + crew and friends all gathered in the Formula Junior tent and the partying began in earnest. Organized by the FJ spouses, there was a big spread of delicious food, wine, deserts, etc., brought for everyone to share with still more provided compliments of FJHNA. Familiar faces could be seen including both of the Lady Formula Junior drivers– Sharon Adelman (Brabham BT6) & Karen Barry ('60 BMC-Huffaker). Also Bruce Revennaugh, Joseph DeLucia, & Phil Lamont (Lotus 18s), Jim Brown (Lotus 20), Jeffrey Carr (Cooper T52), Charles Bamford (Cooper T56), Tom O'Grady (Cooper T59), Tom Atlas ('62 Huffaker), and John Hertsgaard ('59 FJ Special), all were among many other FJ drivers and enthusiasts enjoying the festivities.
Our qualifying times set the grid for Saturday's race. Dan Chapman arrived just in time for the Saturday race. His first time on the new COTA track would be in the qualifying race. Pretty heady stuff. But, if you know hang-gliding/parachute jumping, and ultra-light pilot Dan Chapman, he relishes high risk adventure and was looking forward to it.
The Saturday race launched with the drop of the green flag. The full grid of Formula Juniors charged down the front straight. Some of the drum brake cars starting further back got spectacular starts, fanning out in wall-to-wall drama as they passed the starter. Fortunately for me, I got a good start and was able to hold the point up the hill and into turn one. Jimmy and Robert were all over the back of me, however, and right behind them all I could see was a sea of colors and tire smoke as the rest of the group bore down on us.
Lap after lap we continued to charge into the unknown, trying to figure out where best to brake, what gear to choose, and where best to attempt a pass. When the checkered flag came out, Robert, Jimmy, and I held onto the top three spots. Ed Moore finished fourth in his beautifully turned out, ex-European historic Formula Junior championship winning, Cooper T-59. Ed only recently got the car, and he has it going like a rocket! First in the drum brake class was Roger the crazy Aussie, followed by Jim Sharp in his Cooper T56. Dan Chapman? Well he got a top 10 finish in his very first time on the course. Amazing!
At the end of the race we all received timing and scoring sheets that broke down each lap for each driver. We also had an app. for our phones that allowed us to watch, real time, who was turning which times, and what position they were in. Cool stuff! We were really at a big time track getting to use the latest in technology. I also happened to notice that although he had not crossed the finish line first, Jimmy Domingos, The Professor, had set the fastest lap. He now had the first official Formula Junior track record at the Circuit of the Americas! I was also beginning to think that maybe, just maybe, Jimmy didn't want to run at the front in the first race, saving something for the race on Sunday. Hmmm… Professors are smart like that, you know.
After the checkered flag, the top three cars in the disc brake and drum brake divisions were brought into tech to be weighed. All cars passing, we were taken to the Media Center and had a podium ceremony. I couldn't believe it. Hats, trophies, medals, press, photographers (flashbulbs and everythin'!), friends and family, etc. It was amazing! Smiles all around.
Meanwhile, back at the Formula Junior tent, all of the FJs were lined up so that photographer George McClure could memorialize this historic moment by taking some professional photos of the cars and people who were all part of this great happening. Soon a rather large group of fans began to amass around the cars, taking photos, and talking to the drivers and crews. Many, if not all of us, had the fans and their kids in and around the cars for photos. It was like Woodstock for Formula Juniors.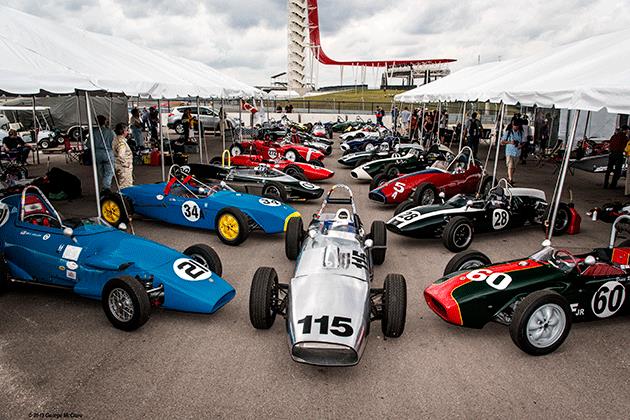 After the race, Jim Sirois and I became concerned about fuel. The Lola had a small fuel cell. Based upon our calculations, we might not make it to the end of the 30 minute main event race, plus two pace laps, on Sunday. Apparently this is how they race in the U.K. and Europe, but we were not ready for that type of distance.
It just so happened that right about this time the Formula B main event race ended, and we ran into our friend and Formula B driver John Delane. John has raced his ex-Jackie Stewart Tyrrell F1 car to multiple vintage World Championships. He is lightning fast in everything, including his Brabham BT-18 Formula B. When we saw John, a light bulb went off. John is fast, and must use a lot of fuel when he races. He also races a Formula B, which must consume more fuel than a Junior. He also just finished the same main event race that we will have to race tomorrow. His BT-18 Brabham is about the same size as our Lola. Could it be that we might "borrow" John's cell and fit it to the Lola for the race on Sunday? John's response? "Absolutely! "
So, Saturday night we were in Scott Drnek's garage on pit lane (yes, the same one that in three weeks would be occupied by Fernando Alonzo, Felipe Massa, and the Ferrari F1 team – so cool!), pulling the cell out of John's car and fabricating it into our car. Kevin Molineaux and Ken Adolf of Virtuoso Performance stayed late to help with the install. The cell was a little too big when filled, so I kind of had to sit on top of it and roll around, but it was close enough. We got it done.
The next day, Scott towed the Lola to the grid with his golf cart so we did not burn even an ounce of extra fuel. We started the car with only 2 minutes to go, and then I drove the pace laps in high gears to save as much fuel as possible. I knew when the green flag flew there would be no saving fuel. Jimmy and Robert were ready to pounce. Ed would be right there too. It was going to be Coopers feasting on a Lola. It would have to be foot to the floor.
It had rained earlier that morning and we were under grey skies. The groove was dry but off line it looked dark, damp, and foreboding making an off line pass a very exciting proposition. When the green flag flew, I got another good start. I was leading into turn 1. However, The "Professor" was about to teach me yet another lesson. He braked early, let me go late and deep, and crossed under me coming out of turn 1 and took the lead. Argh! Robert got in the mix too, with Ed looking for a mistake to get by both of us. Somehow we all made it through. Now it was time for us to try and catch Jimmy.
I chased Jimmy through turns 2, 3, 4, and 5. By turn 6, I was in position to make a move. We went side by side through 7, then 8, and then 9. We gave each other just enough room, but not a centimeter more. Going side-by-side left the door open for Robert, who was lurking behind trying to figure out which one of us to follow through. He should have picked Jimmy. Jimmy shot ahead coming out of turn 9. I couldn't keep up, and Robert was stuck behind me, the slower guy. If I was not in his way, Robert could have gone after Jimmy.
By mid lap, Jimmy had pulled out a good 10 car lead. But by the second half of the lap, the Lola's tires were starting to heat up, and I was getting good grip. Jimmy, was probably driving better, but I think the Lola started working better. I had stemmed the bleeding. Jimmy was ahead, but not pulling away any more. Robert, however, was all over my mirrors. When he wasn't in my mirrors, I could see him on the big "JumboTron" screens located around the course. Yes, they were filming our race! How cool is that?! The only problem for me was Robert was now haunting me from behind in my mirrors, AND in front of me on the giant screens! It was the "All Robert Hoemke Show," all the time from my seat. I seriously wanted to switch channels.
Meanwhile Robert and I started to track Jimmy down. Jimmy had his Cooper slipping and sliding. He was drifting and dancing that car side to side across the wide track. I would close in, he would pull away. I would get side by side, but he would find a way to come out ahead. It was thrust and parry, and parry and thrust. It was wheel to wheel. Sometimes I would be so close I could hear his engine screaming louder than my own. Finally I got a good tow from him down the long back straight. It was shaping up to be a game of high stakes chicken at turn 12 to see who would brake first. However, I had learned my earlier lesson from The Professor. I was not going to brake at the last instant, go too deep, and have Jimmy slip under and ahead of me again. We braked together, wheels locking, tires sliding, eyeballs bulging, hearts stopping. We slid into turn 12. This time I squeaked ahead, and held the point. Now it was Jimmy's turn to watch me. We were both throwing down everything we had. Engines screaming, wheels sliding, game on!
Bit by bit I was able to pull out something of a lead. As the race continued we encountered traffic. It seemed nearly everyone else was having their own epic battles too! It was the same thing. Cars sliding. Thrust and parry, and parry and thrust. Front engine, rear engine, disc brake, drum brake, it didn't matter. Everyone was going for it, and the wide smooth track invited it. At one point I remember coming across Dan Chapman and Jim Yule in the Battle of '56 (T-56 Coopers that is). Dan was leading, but it was difficult to call it leading when Yule was pointed forward, but Chapman was completely sideways more of the time than not. The only I knew for sure is that both had Texas-wide grins on their faces as the battle raged on.
Unfortunately, all good things have to come to an end. While I was eagerly looking for the checkered flag on one hand (and sweating about the fuel level), on the other hand the whole week had been so magic, I didn't want it to end. Racing down the main straight with the huge grandstands on one side, the F1 pits on the other side, and the big screens showing cars battling all over the circuit on the final lap, I saw the checkered flag. I drove to the left, under the flag, just like the F1 guys on TV. I waved to Jim Sirois and Don Sandy, my guys, my F1 team, standing at the pit wall, and threw my hands in the air. It was Unbelievable.
The cool off lap was amazing too. The corner workers waved their flags at us, just like In F1. The fans in the stands were waving too, for all of us. Unfortunately, in turn 12, I saw Jimmy's car, parked to the side, out of fuel. His was not the only one. He had pushed the Cooper for all it was worth, and it had run dry just a few corners from the finish. He did, however, set the first Formula Junior track record, and served notice that any future National Championship winner will have to go through him to get it. Good luck!
We had a second podium ceremony. Fast Robert Hoemke was right there again, and his lovely wife Holly who helped all of us stay cool and hydrated during the week, was there taking photos and congratulating everyone. Robert told me after the race that he had to coast into the post-race tech inspection, as he too was completely out of fuel. Ed Moore joined the podium this time, taking up the third position with his Cooper T-59. Nick Grewal came fourth in his immaculate Lotus 27, and picked up the Vintage Motorsport magazine "Best in Show" award for the whole of the National Championships!
The drum brake group celebrated too. Roger won the class, followed by none other than fiercely determined, and constantly sideways Dan Chapman, and a brave Jim Yule, who actually turned a quicker lap than Chapman in their dogfight.
The front engine cars also put on a great show of original Formula Junior designs. Bill Gelles in his 1959 Stanguellini was first in class, followed by Bill Haga's Elva 100. Hugh Ruthven II came next with Karen Barry close behind in her American made 1960 BMC-Huffaker Junior.
Mixed in between the rear and front engine group was Doug Elcomb in his Dreossi Special. This car certainly wins the most unique FJ design award for the event. If you have not yet seen this car, you must. It was designed by Cecil Simmons and built by Ray Dreossi in Canada in the early 1960s. The basis of the car is an F-86 Sabre Jet drop tank. Really! You have to see it to believe it. As such it must be one of the first "monocoque" designs in formula car racing, and certainly pre-dates Colin Chapman's Lotus 27 for 1963. Hats off to Doug who did a fabulous job driving the car, and entertaining all of us.
After another great round of partying and storytelling, we packed our rigs and said our goodbyes. As we, quite literally, drove into the sunset we were already talking about next year.
For those who missed the trip, I cannot encourage you enough to come to Austin next fall. The track is fabulous. It is super safe, and very car friendly if you make a mistake. You will have the chance to meet Formula Junior folks from across the country, and around the world. You will leave with a lot of new friends, and a huge smile on your face. The photos of you racing on this world-class Formula One circuit alone are priceless. I think you will also find the people at COTA to be among the nicest, most accommodating, and helpful you will find at any track anywhere. The SVRA folks are not only organized and efficient; they are also a whole lot of fun. I think they were as excited as we were just to be there, and to be a part of this great happening. Even off the track there was plenty of entertainment and great food to enjoy after a day at the track.
So, mark it on your calendar. Apply now. Don't miss this one.
Art Hebert