Latest Legend to Join 50th Anniversary Trans-Am Weekend Will Race in Two Events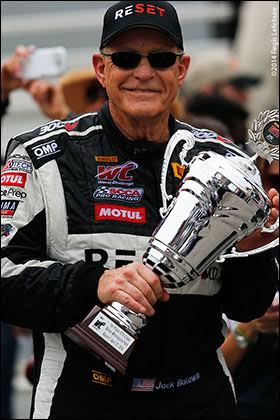 Jack Baldwin, who won the 1992 Trans-Am championship and a number of other major titles during a sterling career, is the latest legendary driver to enter races at the March 3-6 SportsCar Vintage Racing Association (SVRA) weekend at Sebring. Baldwin will compete in his 2012 GT Sport Racing #73 Porsche Cayman S in two events, the SVRA Group 12 and the Stuttgart Cup competition of the America's GT Cup series. The SVRA and America's GT Cup announced on December 16 of last year that they had established a strategic agreement to run together during seven weekends in 2016. America's GT Cup will run in a separate group in the larger context of SVRA event weekends.
Baldwin is the latest Trans-Am champion to join a growing list of some of the biggest driving stars of Trans-Am history at the iconic Sebring airport course. Other previously announced legends of earlier eras include event grand marshal Bob Tullius as well as George Follmer, Lyn St. James, Willy T. Ribbs, David Hobbs and Tom Yeager. Ron Fellows was announced last week as an entry in the SVRA's Group 6 classic Trans-Am contest with the Dave Roberts 1969 Camaro Z28. Baldwin and Fellows will compete with vintage racers while the other legends will be on hand to greet fans in planned activities that include autograph sessions and moderated panel discussions.
"I'd like to say I planned all these awesome entries, but the truth is this event has taken on a life of its own," said Tony Parella, SVRA President and CEO. "What the SVRA is doing to salute the Trans-Am series has struck a nerve and a lot of very accomplished racers are gathering with us to be a part of this special occasion."
Baldwin is indisputably one of America's all-time great road racing talents with outstanding accomplishments in SCCA, IMSA, Grand AM, ALMS, NASCAR, HSR and Pirelli World Challenge to go along with his success in Trans-Am. He was twice invited to compete in the prestigious IROC series in 1993 and 1994, edging out Dale Earnhardt in a photo finish for the runner-up spot behind Al Unser Jr. at Talladega in '93. In 1984 Baldwin won the GTU class driving the Malibu Grand Prix Mazda Rx-7 at both the 24 Hours of Daytona and the 12 Hours of Sebring. He picked up a second win at Sebring in 1997 driving the Hot Wheels Oldsmobile Aurora in the GTS-1 class.
Across a career spanning nearly five decades beginning with SCCA regional championships in the early 1970's and the United States Formula Ford crown in 1972, Baldwin has amassed 5 championships, 39 professional race victories and over 250 podiums. Despite his success with sports cars and even finishing fourth in 1999 at Watkins Glen in a NASCAR Busch series race, Baldwin recognizes he is best known as a Trans Am driver, especially the man at the wheel of the famous Hot Wheels Camaro. The distinctive car was not only eye catching but also the inspiration of toy replicas served in McDonald's Happy Meals.
"Those years in Trans-Am defined my career," Baldwin says. "Fans always refer to that. "I believe the Hot Wheels Trans-Am Camaro is arguably one of the most recognized Trans-Am cars of all time. The car had huge broad base appeal in and out of motorsports and was known worldwide."
Baldwin won five races across three successive Trans-Am seasons beginning in 1991. He was series rookie of the year in 1990. More recently he competed in the GTS class of the Pirelli World Challenge series from 2012 through 2015 where he scored eight victories, 30 podium finishes and 16 Pole Positions driving his #73 Porsche Cayman S. He became recognized worldwide as the leading developer of the Cayman S as a racing platform and influenced the marketing and engineering direction of the Porsche Product. For 2016 Baldwin expects to focus on SVRA and Stuttgart Cup events.
In addition to Baldwin and the other legendary Trans-Am drivers the SVRA's hundreds of vintage racers will share the Sebring venue with today's TransAm series. That field is led by current TransAm champion Amy Ruman, a 20-year veteran of American road racing, who is not only the first woman to take the TransAm crown but is also the series' winningest driver the past two seasons with 10 victories.
The Historic Trans-Am group will also bring their show to the SVRA's March 3-6 Sebring weekend. These authentic and historic Trans-Am machines stage their own competition. Among the entries are cars once driven by Parnelli Jones (Boss 302 Mustang), Mark Donohue (Javelin and Camaro), Sam Posey (Dodge Challenger), and a Dan Gurney/Swede Savage Plymouth Barracuda. Thirty-one of these cars are currently entered.