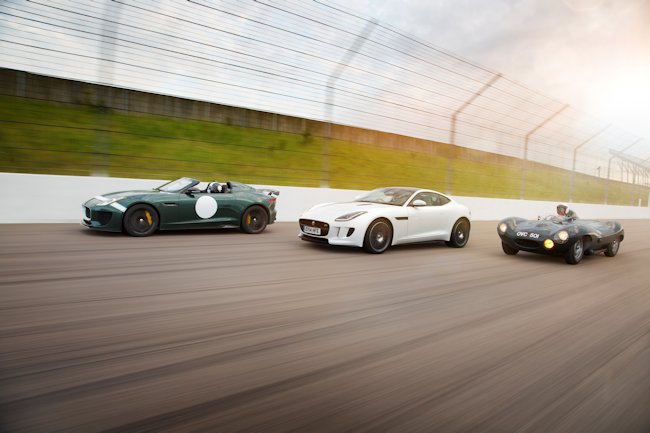 – Jaguar to sponsor seven SVRA races throughout the US
– Consumers given the opportunity to test the dynamic performance of the newest Jaguar model line-up including the 2016 F-TYPE R AWD
– First event to be held at Sonoma Raceway on May 28-31
(MAHWAH, NJ) – May 26, 2015 – Jaguar announced today that it has entered into a partnership with the Sportscar Vintage Racing Association (SVRA) to introduce its newest high performance models to some of the nation's most fervent automotive enthusiasts.
The partnership will feature seven Jaguar-sponsored SVRA races throughout the US starting with a Gold Medallion Invitational at the Sonoma Raceway on May 28-31. The Gold Medallion program aims to protect the integrity of these vintage vehicles by maintaining and racing them as they were prepared in period.
At each of the seven events, Jaguar will offer consumers the opportunity to test the dynamic performance of the newest additions to the Jaguar line-up including the 550-hp Jaguar F-TYPE R AWD1. Activities will include an autocross track specially designed by the Jaguar Performance driving team.
Jaguar-sponsored events and dates:
– Sonoma Raceway: May 28-31
– Indianapolis Motor Speedway: June 10-14
– Portland International Raceway: July 9-12
– Watkins Glen: July 23-26
– Coronado Speed Festival: September 18-20
– NOLA Motorsports Park: October 8-11
– Circuit of The Americas: November 4-8
"Exciting Performance is at the foundation of the Jaguar DNA beginning with our rich history in racing right up to our newest models," says Kim McCullough, Vice President, Marketing, Jaguar Land Rover North America. "With this partnership we have the opportunity to introduce the modern Jaguar line-up to today's most passionate automotive enthusiasts. We can't wait for them to drive our new cars, especially the 2016 F-TYPE."
Jaguar Heritage Activities
Globally Jaguar maintains a strong link to its Motorsport history with involvement in activities that include the Mille Miglia, Classic Le Mans, and the Goodwood Festival of Speed.
Recently launched, the Jaguar Land Rover Special Vehicle Operations Division includes a Jaguar Heritage group which is dedicated to supporting historic Jaguar vehicles and their owners.
Sportscar Vintage Racing Association
Regarded by many as the largest sanctioned historic automotive racing series in North America, SVRA maintains the highest quality of heritage racing vehicles in the country. Typical SVRA races have multiple classes that include iconic Jaguar racing vessels like the C-Type, D-Type and E-Type.
"We are honored to partner with Jaguar, one if the most iconic automotive manufacturers in the world," said Tony Parella, CEO and President of SVRA. "This partnership focuses on the significant sports car racing heritage and impressive new road cars from Jaguar. The joint effort of SVRA and Jaguar reinforce a commitment to history, while building synergy towards a future together. The vintage race drivers, their guests, crews and fans will all enjoy what Jaguar Land Rover North America brings to our events, and we are proud to play a part in it."
For more information about Jaguar products visit jaguarusa.com.
About SVRA
The Sportscar Vintage Racing Association is the premier vintage organization in the United States .Founded in 1981 by Ford Heacock III the SVRA has 2,000 members. It currently sanctions 18 events at some of the finest racing venues in the United States, including: the Indianapolis Motor Speedway, Sebring, Road America, Watkins Glen, Auto Club Speedway, Road Atlanta, Pocono Raceway, the Mid-Ohio Sports Car Course, Sonoma Raceway, Portland International Raceway and Virginia International Raceway. The rapidly growing organization hosted the first U.S. Vintage Racing National Championships at the Circuit of the Americas (COTA) in Austin, Texas in 2013. Further information on SVRA, a complete annual schedule and entry lists can be found on the SVRA website. Also, be sure to check out our Facebook page and Youtube channel which currently boasts a library of over 100 action-packed videos of events.
About Jaguar
Jaguar is a premier manufacturer of luxury sedans and sports cars offering unparalleled design with tremendous performance. The company's vision throughout its storied history has been simple: To produce beautiful, fast cars that are desired the world over. Jaguar strives to provide a world class ownership experience to every owner. Today's Jaguar lineup consists of the Jaguar XE, two-seater F-TYPE, XF sports sedan, and the XJ luxury sedan. Jaguar designs, engineers and manufactures exclusively in the United Kingdom, at the Castle Bromwich manufacturing plant in the British Midlands. Jaguar is fully engaged with sustainability initiatives and social concerns with continuous involvement in environmental and community programs. For more information visit the official Jaguar website at www.jaguarusa.com.
About Jaguar Land Rover
– The United States is one of the leading global markets for both Jaguar and Land Rover
– Jaguar Land Rover employs 32,000 people and sells vehicles in 170 countries around the world
– Jaguar Land Rover has two state of the art engineering and design facilities and four advanced manufacturing plants in the UK
– Headquartered in Mahwah, New Jersey in the United States, Jaguar Land Rover North America, LLC has offices across the USA
– Jaguar Land Rover is represented by more than 330 independently operated retail outlets in the USA