1992 Indy 500 Rookie-Of-The-Year To Race Pro-Am And Formula Atlantic
Lyn St. James, announced earlier as an entry in the "Indy Legends" Pro-Am during the upcoming Brickyard Invitational vintage race meet at the Indianapolis Motor Speedway (IMS), is planning to do double duty during the Sportscar Vintage Racing Association (SVRA) event Friday, June 6 through Sunday, June 8. In addition to the Pro-Am, the 1992 Indianapolis 500 Rookie of the Year confirmed she will also compete in the weekend's open wheel Group 9 race. St. James, who has a well-earned reputation as a versatile driver, will race a 1977 Chevron Formula Atlantic as well as a powerful 1970 Boss 302 Mustang in the "Indy Legends" Pro-Am where she will join 25 other Indianapolis 500 veterans paired with SVRA amateur regulars in a 40-minute contest on the 2.43-mile IMS Grand Prix road course on Sunday afternoon.
"Vintage racing at IMS is going to be a special treat for race fans, many who might be too young to have seen some of these cars put through their paces in the heat of competition years ago," said St. James. "I've recently become active in vintage racing and can tell you it is both fun and a serious sport. At the same time it is a marvelous way to get in touch with the history of racing. This is the kind of event I think both the Indianapolis race fan and car lover will really appreciate and find exciting."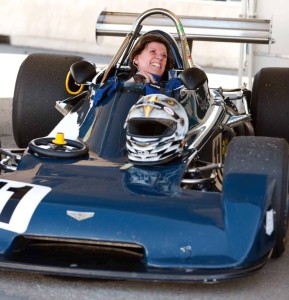 St. James, a seven-time starter in the Indianapolis 500, raced in 15 Indy car races in her career. She created a stir in 1994 when she out-qualified Formula One World Champions Nigel Mansell and Mario Andretti – who also won the 1969 Indianapolis 500 – to earn a second row starting spot in that year's Indianapolis 500. The following year she established the world closed-circuit speed record for women with a 225.722 MPH qualification run.
While many fans know Lyn best for her Indianapolis 500 achievements, she is an accomplished road racer and has earned numerous laurels at the wheel of a variety of race cars. She is a two-time competitor in the most prestigious sports car race in the world, the 24 Hours of Le Mans (1989 and '91). She raced in the 12 Hours of Sebring nine times, winning the GTO class in 1990, and was a two-time winner in the GTO Class at the 24 Hours of Daytona. Lyn raced in 53 Trans-Am races with seven top-five finishes. She was even more successful in 62 IMSA GT events, amassing a stout record of six wins, 17 top-five and 37 top-ten finishes. Her 1985 GT victory at Watkins Glen remains the only time a woman has scored a win in that series driving solo. Through it all she has held 31 international and national closed circuit speed records.
St. James has accrued a long list of achievements and awards beyond the cockpit of race cars. A successful businesswoman and author she is in demand as a motivational speaker. She has served on numerous boards and in advisory roles for major corporations including Ford, J.C. Penny, NIKE, Merrill Lynch, Automotive News PACE Awards, Hagerty Education Program, and many others. Named by Sports Illustrated as one of the Top 100 Female Athletes of the Century, she has been cited for accomplishments in and out of race cars by numerous publications and institutions including Working Woman magazine and Northwood University where she was named Distinguished Woman of the Year in 2006. These are just a sample of the recognition she has received for her work that includes establishing the Women in the Winner's Circle Foundation in 1994 and subsequently the affiliated "Women's Sports Foundation Project Podium Grant" (2013) and The Henry Ford's (museum) "Women in the Winner's Circle" traveling exhibit (2010).
Lyn brings her impressive credentials to the "Indy Legends" Pro-Am field of 26 drivers that also includes Indianapolis 500 winners Al Unser Jr. and Buddy Lazier as well as Scott Goodyear, Willy T. Ribbs, Robby McGehee, Mark Dismore, Alex Lloyd, Johnny Parsons Jr., Davey Hamilton, Robby Unser, Pete Halsmer, Rocky Moran, Eliseo Salazar, Dick Simon, Scott Harrington, Jack Miller, Rick Treadway, Spike Gehlhausen, Billy Roe, Tom Bagley, John Martin, P.J. Chesson and John Hollansworth. Lazier's father and brother – Bob and Jaques – will also race, marking the first time the family has competed together at IMS. Parnelli Jones, who won the 1963 Indianapolis 500, will pace the field as part of his duties as Brickyard Invitational Grand Marshal. Three-time Indianapolis 500 winner Bobby Unser will lead a Brickyard Invitational high-speed oval experience.
The cars for the Pro-Am will be 1963 to 1972 vintage Corvettes, Camaros and Mustangs of "Group 6," with an engine displacement limit of 355 cubic inches. The Indianapolis 500 veterans will be paired with amateur drivers, each taking a 20-minute stint. Five minutes will be allotted for driver change.
Lyn's Group 9 Formula Atlantic Chevron has an interesting pedigree. A model B39, it was constructed in 1977. It is one of 11 such machines built by Chevron. Others were driven in the 1977 Formula Atlantic series by 1986 Indianapolis 500 winner Bobby Rahal and 1982 Formula One World Champion Keke Rosberg. The fully restored racer has passed through a number of hands and is currently owned by Chris Locke who races it throughout the United States and Canada. The car is maintained by John Anderson Racing of Sonoma, California and occasionally driven by St. James in vintage events.
The "Brickyard Invitational" weekend will be the largest gathering of race cars ever assembled for competition in America. The SVRA has 11 groups of cars spanning 100 years of vintage machines and all will be in action at IMS. The exciting array of entries include exquisite examples of select pre-war machines, classic sports cars, Formula One and endurance race prototypes as current as 2009. The storied 2.5-mile oval will be utilized as well with high-speed exhibition runs by a wide variety of cars including several of the crowd-favorite 1950's-vintage Indianapolis 500 "roadsters." Race fans can enjoy every minute of the action by taking advantage of overnight camping inside the Speedway.
"Coming off a great Indianapolis 500 I know a lot of race fans are saying they can't wait to get back to the Speedway," said SVRA President and CEO Tony Parella. "Well they don't have to wait long at all to get another taste of Indy 500 history and more when we have great drivers and cars they loved in action again at IMS."
St. James and the other Pro-Am cars and drivers will participate in a Fan Walk through the starting grid prior to the opening ceremonies allowing fans to see the cars up close, take photos and chat with the drivers. All entry fees will be donated to the Indianapolis Motor Speedway Hall of Fame Museum Foundation.
Brickyard Invitational ticket information: A three-day general admission pass including Friday, June 6 through Sunday, June 8 costs $40. Single day general admission tickets are $15 on Friday, June 6, $20 on Saturday, June 7 and $25 on Sunday, June 8. Children 12 and under are admitted free each day when accompanied by an adult. Existing ticket customers to any 2014 IMS event are eligible to receive discounted general admission three-day passes for $30 until May 1 (save $10). Tent camping passes in Turn 3 of the IMS infield are available beginning Thursday afternoon, June 5 for $30, with RV camping available in the Northwest gravel lot for $60.
Fans can order Brickyard Vintage Racing Invitational tickets at www.ims.com/tickets, by calling 800-822-INDY or 317-492-6700 between 8 a.m.-5 p.m. (ET) Monday through Friday or by visiting the IMS Ticket Office at the IMS Administration Building at the corner of Georgetown Road and 16th Street between 8 a.m.-5 p.m. (ET) Monday through Friday. Tickets for groups of 20 or more also are available. Contact the IMS Group Sales Department at (866) 221-8775 for more information.