"Mazda Miata Heritage Cup" Five-Race Series Offers New Entry Point For Aspiring Racers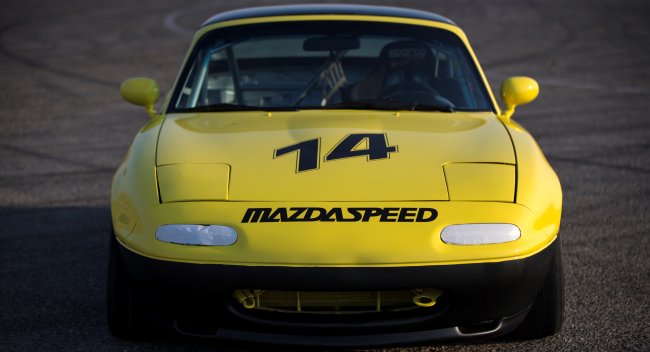 The Sportscar Vintage Racing Association (SVRA) announced today a relationship with one of the most formidable manufacturer brands in all motorsports, Mazda, to jointly organize a new class of vintage racing. The cars are first generation 1.6-liter spec Miatas of 1990 to 1993 vintage and will compete in a five-race points championship named the "Mazda Miata Heritage Cup." Each weekend will crown a Mazda Miata Heritage Cup race event winner. The races will be given a distinct class but will be presented on SVRA event weekends at Auto Club Speedway, Road America, Mid-Ohio Sports Car Course, Portland International Raceway and Virginia International Raceway.
"This new offering associates us with a hugely respected brand in Mazda Motorsports but also opens the door to a terrific new entry point in vintage racing," said Tony Parella, SVRA president and CEO. "We now have an affordable, more recent vintage race car that a younger generation driver can relate to. Younger drivers remember them and once they enter our sport they can build from there. As we infuse new blood into our sport it is also a nice tie to our recently announced driver school and accelerated path to competition licensing."
The new vintage spec Mazda Miata Heritage Cup is the latest enhancement to what the SVRA calls its season of motorsports festivals where fans yearning for the days of wide variety in car design and engine noises can have their fill. The new Mazda Miata Heritage Cup will have its own distinct races as do other run groups such as the Historic Trans Am cars. Professional Trans Am also shares the stage with the SVRA at various points throughout the season. The festival format of America's premier vintage racing series with cars spanning 100 years of history also frequently includes Motostalgia car auctions, car shows and music concerts by iconic bands.
Mazda Motorsports will provide support resources to the SVRA in organizing the Mazda Miata Heritage Cup events and season championship. The Mazda races will run with the SVRA at the following 2017 events: April 28-30, Auto Club Speedway; May 18-21, Road America; June 22-25, Mid-Ohio Sports Car Course; July 27-30, Portland International Raceway and September 21-24, Virginia International Raceway.
"We are pleased to support the SVRA in this enhancement to their race weekends," said John Doonan, director for Mazda North American Operations. "Mazda Motorsports has a long history dating back to the 1960's, so it is only fitting that we work with the SVRA. The Miata is a well-proven, time-tested racing platform and cars are widely available as well as parts. We know racers will enjoy the experience they have in the Miata and with the SVRA, who has impressed us with their growth and expertise in organizing racing events."
Mazda Motorsports boasts the most comprehensive auto racing development ladder system of any auto manufacturer in the world. The Mazda Road to 24 program offers a number of scholarships to advance drivers up the sports car racing ladder, beginning with the Global MX-5 Cup series and culminating with the Mazda Prototype team. The Mazda Road to Indy is a similar program that includes Mazda-powered categories of USF2000, Pro Mazda and Indy Lights. In grassroots road racing, more Mazdas race on any given weekend in North America than any other manufacturer. Mazda is also the title sponsor of Mazda Raceway Laguna Seca in Monterey, California.