To register your sponsorship with the Military Pit Crew Challenge,
contact Bill Rhine at (704) 489-8359 or rhinew@bellsouth.net.
It takes support and financial sponsorship to make the MPCC happen!
A MESSAGE FROM NAVAL AIR STATION NORTH ISLAND…
The Military Pit Crew Challenge is a very important part of Speed Festival. The Navy would like to continue this unique event, as it positively contributes to unit cohesion, morale, and mission readiness. It is one of the only Fleet Week events that brings together aviators, ship crews and support personnel from area San Diego Naval bases. Up to 32 ten-member teams compete in an intense two-week training period where the they work closely under time trial conditions with real cars, tools, and equipment used by the pros. The four day challenge culminates with a NASCAR® style pit crew team racing to the finish line. Nothing beats the team-building value of competing in a real pit crew challenge… just like the pros!
Bill Rhine of Rhine Built, founding member of the MPCC, has personally financed the MPCC for the last five years. The cost of this two-week training process includes a rig, four NASCAR® spec cars, equipment, training personnel, and transporting/lodging seven training personnel to the event. To be able to continue this morale boosting event, the MPCC needs support and sponsorship from the SVRA race teams.
Naval Air Station North Island's leadership has expressed the importance of the MPCC to the base and military personnel that compete in this incredible Speed Festival Event. Please help continue this unique event.
Your sponsorship at all levels is greatly appreciated and supported by the command of NASNI.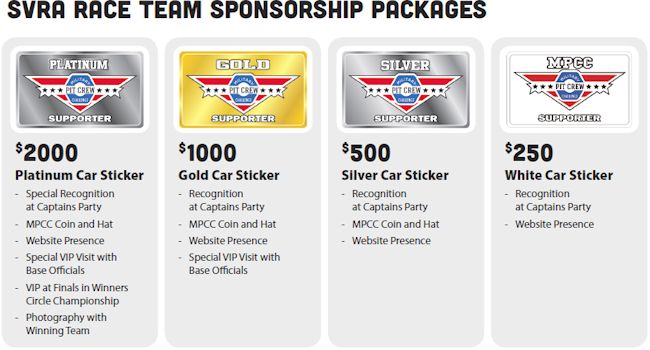 ADDITIONAL INFORMATION…
Special on location news coverage on FOX Sports! There will also be special news coverage about the MPCC and SVRA team support from Brad Perry with station KUSI. The SVRA will recognize drivers and their teams during race announcements. The MPCC will encourage all military participants and their families to show their appreciation of each team's support. They will be on the lookout for stickers on cars in paddocks, so they can introduce themselves to participating teams and take photos to share on social media sites with the hashtags #SVRA and #MPCC.
This is your chance to support and meet the men, women and their families who defend our freedoms every day. Please give back to them by helping to make this event possible!
MPCC is a 501c3 Non-Profit Organization. Title Sponsorships and Supporting Sponsorships are 100% tax deductible.
To register your sponsorship with the Military Pit Crew Challenge, contact Bill Rhine at (704) 489-8359 or rhinew@bellsouth.net.