Vastly Experienced International and North American Motorsports Industry Executive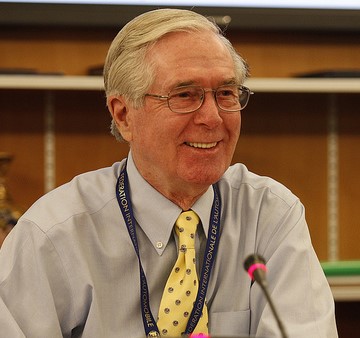 Southlake, TX (April 14, 2020) – Parella Motorsports Holdings (PMH), the owner of the Sportscar Vintage Racing Association (SVRA) and majority owner of the Trans Am presented by Pirelli Series, today announced that Nick Craw, a much-respected international motorsports industry executive has joined its board of directors. Craw has vast experience in the sport, including time as a professional driver across a variety of disciplines with two IMSA championships, and as an industry executive most notably as President and CEO of the Automobile Competition Committee of the United States (ACCUS-FIA), and simultaneously as FIA Senate President from 2009-2017. Craw was also the longest-serving President & CEO of SCCA (17 years).
Craw joins successful NASCAR executive Jim Cassidy, who held senior-level positions in America's premier motorsports company from 2000 through 2018, on the PMH board. Cassidy joined the board last year. He also worked with NASCAR for eight years in the capacity of senior legal assistant representing the firm Miller, Cassidy, Larroca, and Lewin, LLP, from 1992 – 2000.
"I am very excited to have Nick join our board," said Tony Parella, owner of PMH. "His experience at the highest levels of American and international motorsports will be invaluable in helping to guide us well into the future. His network is vast and you will find no industry executive who is more widely respected."
"I am pleased to be a part of Parella Motorsports Holdings and have watched Tony Parella unfold his vision. I know exciting and big things are ahead for this organization and I look forward to contributing to their success," said Craw. "Tony and his team have carved out a genuinely unique market positioning with his SpeedTour brand, which includes SVRA, VROC (Vintage Race of Champions) and the revitalized Trans Am Series presented by Pirelli. I am convinced the trajectory of these businesses will push them into the mainstream motorsports conversation."
About SVRA: Sportscar Vintage Racing Association ("SVRA") is the premier vintage racing organization in the United States. Founded in 1978, SVRA has grown steadily to 2,500 active members with a database of over 11,000 race cars. Race weekends in 2020 take place at some of the finest racing venues in the United States, including: the Indianapolis Motor Speedway, WeatherTech Raceway Laguna Seca, Lime Rock Park, Sebring Raceway, Road America, Watkins Glen International, Road Atlanta, the Mid-Ohio Sports Car Course, Portland International Raceway, Auto Club Speedway, and Virginia International Raceway (VIR). In 2013, SVRA hosted the first U.S. Vintage Racing National Championships at the Circuit of the Americas (COTA) in Austin, Texas—a tradition it continues today. Further information on SVRA, a complete annual schedule, and entry lists can be found on the SVRA website. Be sure to check our Facebook page and YouTube channel, which currently boast a library of over 300 action-packed event videos, or follow us on Twitter and Instagram.