John Martin, Dennis Firestone Also Add Experience to June 17 Indy Legends Pro-Am Field
The Sportscar Vintage Racing Association (SVRA) today announced the return of drivers Roberto Guerrero, John Martin and Dennis Firestone to the Fathers' Day Weekend Indy Legends Pro-Am at the Indianapolis Motor Speedway. The three drivers bring the list of entries to 28.
"Roberto is no stranger to our events as he is a big part of Jaguar's sponsorship of our series, but it's special when he actually competes wheel-to-wheel in a race this important," said SVRA President and CEO Tony Parella. "Roberto's career speaks for itself with remarkable accomplishments in Indy car as well as the opportunity to race in the elite Formula One World Championship."
Guerrero raced in 15 Indianapolis 500s beginning with his rookie-of-the-year performance in finishing second in 1984. He also won the series rookie-of-the-year award the same year. He finished second in the 1987 Indy 500 after leading late in the race. A delay in the pits dropped him behind eventual winner Al Unser. In his first four "500's" Guerrero never finished out of the top four. He set the Indianapolis Motor Speedway track record in 1992 at 232.482 mph, the first driver to win the pole with a speed over 230.
Guerrero started racing with karts in 1972 in his native Columbia, winning two national championships by 1977. The following year he ventured into British Formula Ford and won eight races. He progressed to British Formula Three where he scored five victories. Guerrero raced European Formula Two in 1981, picking off the Jochen Rindt Memorial Trophy. His success led him to two seasons in Formula One with the Ensign and Theodore teams. He came to America in 1984 to race Indy cars. Over the next few years, in addition to his impressive results in the Indianapolis 500, he scored two race wins at Phoenix and Mid-Ohio. In an Indy car career that spanned 17 years he also earned numerous pole positions and 41 top ten finishes. His achievements garnered him an invitation to the elite IROC series in 1988.
As an SVRA series sponsor Jaguar uses events like the Brickyard Invitational to showcase their latest products. They conduct performance academies for customers that include coaching by elite drivers like Guerrero. Davy Jones, the 24 Hours of Le Mans overall champion in 1996, has been a Jaguar driver and consultant for 25 years. He assembled a team of professional drivers to coach customers as well as host an autocross course experience for race fans at SVRA events. Anyone with a legal driver's license who attends designated SVRA race weekends like the Brickyard Invitational can register to drive the latest Jaguar models on the autocross with one of the drivers coaching. Jones, who finished second in the 1996 Indianapolis 500, was previously announced as an entry in the "Indy Legends" Charity Pro-Am.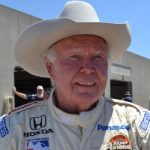 John Martin is a five-time Indy 500 starter and has outstanding credentials in road race competition. An excellent mechanic he converted his 1963 Corvette Sting Ray into an A-Production race car and went SCCA racing. He was national champion in 1964 and went professional in 1966. He drove an AMC Javelin in the classic days of Trans Am and tackled the Indianapolis 500 in 1972.
Firestone is also a five-time starter of the Indianapolis 500 with a top-ten finish in 1981. He was rookie-of-the-year for the Indy car series in 1980, finishing in the top five twice. On his way up the ladder he competed in the American Super Vee series, USAC Gold Crown and was 1979 USAC Mini-Indy series champion. He also frequently races with SVRA in other event weekends.
The Pro-Am feature is a 45-minute race on the Speedway's 2.43-mile Grand Prix road course. Top drivers who have filed entries include four-time Indy 500 champion Al Unser and his son, Al Jr., who won the "500" twice. Other stars include defending Indy Legends Pro-Am drivers Robby Unser (A Production) and Paul Tracy (B Production) as well as Willy T. Ribbs, Jimmy Vasser, Sarah Fisher, and Lyn St. James.
The cars are racing machines from the "Group 6" SVRA class. As in previous years that will include 1963 to 1972 vintage Corvettes, Camaros and Mustangs but also race officials are considering adding other Group 6 marques such as Porsche and Jaguar for variety. Look for additional announcements of Indianapolis 500 drivers to be entered in the coming weeks. As in the previous three years, the professionals will be paired with amateur drivers, splitting stints at the wheel at their discretion.
In addition to the Pro-Am, there will be a festival of other activities including the Hagerty Insurance "shine and show" car corral, a motorcycle homage with vintage motorcycle racing and displays, and 500+ vintage racers ranging over 100 years of automotive history. An oval exhibition featuring a racecar show of judged competition for the A.J. Watson and Sir Jack Brabham trophies led by track historian Donald Davidson will also take place. For the first time ever, the professional Trans Am series will compete as the Sunday afternoon feature race.
Brickyard Invitational ticket information: Fans can order Brickyard Vintage Racing Invitational tickets for all or any one of the four days of the event online through the Speedway or by calling 800-822-INDY or 317-492-6700 between 8 a.m.-5 p.m. (ET) Monday through Friday. Fans can also visit the ticket office at the IMS Administration Building at 4790 West 16th Street between 8 a.m.-5 p.m. (ET) Monday through Friday. Tickets for groups of 20 or more also are available. Contact the IMS Group Sales Department at (866) 221-8775 for more information. Children 15 and under are admitted free each day when accompanied by an adult. Tent camping passes in the IMS infield start at $30 and are available all four days.