Star Trio To Compete Together First Time Anywhere In June 17 Indy Legends Pro-Am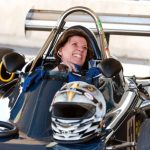 The Sportscar Vintage Racing Association (SVRA) today announced that Sarah Fisher will join Lyn St. James and Ana Beatriz for the first time in this year's Fathers' Day Weekend Indy Legends Pro-Am at the Indianapolis Motor Speedway. The trio is among the most talented and versatile drivers of Indianapolis 500 history and all will be together in competition for the first time anywhere in the Saturday, June 17 feature race.
"We've been approaching Sarah about joining us since last year," said SVRA CEO Tony Parella. "She was the sport's most popular driver in the IRL days and I have to believe fans are going to be delighted that the SVRA can make it possible for these three great drivers to compete together for the first time in history."
"Lyn and I talked about it, and she told me this event has been a lot of fun," says Fisher, who, with husband Andy O'Gara, owns the popular 1911 Grill and Speedway Indoor Karting center on Main Street in Speedway. "It will be great to be at the Speedway with all the great fans and people who love our sport."
Of the three women, Fisher is the only one to have competed in the same Indianapolis 500 with either of the other two. She raced with Lyn St. James during Lyn's final appearance in 2000 and then competed against Beatriz in Ana's rookie year, 2010. That was Fisher's final "500" appearance as a driver.
Fisher is a veteran of nine Indy 500s, more than any other woman. She is also the first woman to compete full time in the Indy Car series. There she earned standout results as the first woman to earn a pole position with a record-setting performance at Kentucky Speedway in 2002. Also at Kentucky she was the first woman to finish on the podium in 2000 and backed it up with a runner-up finish at Homestead in 2002. Fans voted her Indy Car's Most Popular Driver for three consecutive years, 2001-2003. She won a similar trophy in 2005 in the NASCAR West Series. Fisher enjoyed early success winning championships in karting and quarter midgets. She climbed the ladder of midget and sprint cars, including World of Outlaws. After her driving career, she became the first woman to own a full-time Indy car team in 2008 and scored a victory with driver Ed Carpenter in 2011.
St. James, a seven-time starter in the Indianapolis 500 and the event's rookie of the year in 1992, raced in 15 Indy car races in her career. While many fans know Lyn best for her Indianapolis 500 achievements, she is an accomplished road racer and has earned numerous laurels at the wheel of a variety of racecars. She is a two-time competitor in the 24 Hours of Le Mans (1989 and '91). She was even more successful in 62 IMSA GT events, amassing a record of six wins, 17 top-five and 37 top-ten finishes. Her 1985 GT victory at Watkins Glen remains the only time a woman has scored a win in that series driving solo. That accomplishment was commemorated last year at The Glen's U.S. Vintage Grand Prix. Lyn raced in the 12 Hours of Sebring nine times, winning the GTO class in 1990, and was a two-time winner in the GTO Class at the 24 Hours of Daytona. Lyn raced in 53 Trans Am races with seven top-five finishes. She has held 31 international and national closed circuit speed records and is a member of the Florida Sports Hall of Fame and the SCCA Hall of Fame. She has competed in all of the Indy Legends Pro-Am races since 2014.
Brazil's Ana Beatriz, also known as "Bia" to friends and fans, is a four-time veteran of the Indianapolis 500. She got started racing karts in Brazil at age 8, winning one of her country's top championships in 2003. Ana also entered Brazilian Formula Renault in 2003 and won that season's rookie-of-the-year award. She spent three seasons in the Formula Renault series, scoring three wins and three poles in 2005. After a year in the Brazilian Formula Three championship, she came to America to race in the Indy Lights Series. She earned significant success there with two wins, seven podiums and the rookie-of-the-year trophy in 2008. Ana was also presented the Tony Renna "Rising Star" award that same year. Her race victories made her the first woman to win in Indy Lights history. Ana qualified for four successive Indy 500s and her last appearance was in 2013. In recent years she has competed in the Brazilian Stock Car series and drove in last year's Indy Legends Pro-Am.
The Pro-Am feature Sarah, Lyn and Ana will compete in is a 45-minute race on the Speedway's 2.43-mile Grand Prix road course. The cars are racing machines from the "Group 6" SVRA class. As in previous years that will include 1963 to 1972 vintage Corvettes, Camaros and Mustangs but also race officials are considering adding other Group 6 marques such as Porsche and Jaguar for variety. Look for additional announcements of Indianapolis 500 drivers to be entered in the coming weeks. As in the previous three years, the professionals will be paired with amateur drivers, splitting stints at the wheel at their discretion.
In addition to the Pro-Am, there will be a festival of other activities including the Motostalgia car auction, the Hagerty Insurance "shine and show" car corral, a "Celebration of Motorcycles" with vintage motorcycle racing and displays, and 500+ vintage racers ranging over 100 years of automotive history racing in SVRA Groups 1 through 12. An oval exhibition featuring a racecar show of judged competition for the A.J. Watson and Sir Jack Brabham trophies led by track historian Donald Davidson will also take place. Also, for the first time ever, the professional Trans Am series will compete as the Sunday afternoon feature race. Heading the pack will be series champion Amy Ruman who has won the crown the last two years.
Brickyard Invitational ticket information: Fans can order Brickyard Vintage Racing Invitational tickets for all or any one of the four days of the event online through the Speedway or by calling 800-822-INDY or 317-492-6700 between 8 a.m.-5 p.m. (ET) Monday through Friday. Fans can also visit the ticket office at the IMS Administration Building at 4790 West 16th Street between 8 a.m.-5 p.m. (ET) Monday through Friday. Tickets for groups of 20 or more also are available. Contact the IMS Group Sales Department at (866) 221-8775 for more information. Children 12 and under are admitted free each day when accompanied by an adult. Tent camping passes in the IMS infield start at $30 and are available all four days.