Second Legends Pro-Am With NASCAR Stars Added To September VIR Weekend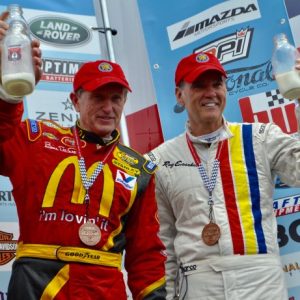 The Sportscar Vintage Racing Association (SVRA) today announced a 14-race weekend for 2018, featuring a new Pro-Am race for legends of NASCAR at Virginia International Raceway on September 22. The SVRA schedule continues to complement the professional Trans Am Series presented by Pirelli to leverage growth for the two series as they will share eight race weekends.
The new Pro-Am for NASCAR legends, called the "American Racing Legends Charity Pro-Am," builds on the successful momentum of the "Indy Legends Charity Pro-Am" held annually since 2014 during the SVRA's Brickyard Invitational weekend at the Indianapolis Motor Speedway in June. The event will benefit IGNITE – the Autism Society of North Carolina's community center for young adults with high-functioning autism or Asperger's syndrome. IGNITE was founded by The Evernham Family Racing for a Reason Foundation – a nonprofit established by legendary NASCAR crew chief Ray Evernham and his family.
"There is no relationship I have found more personally and professionally gratifying than the one Ray and I have developed over the past few years," said SVRA CEO Tony Parella. "His commitment to helping those meeting the challenges of autism is truly inspiring. Next year will mark the fifth anniversary of new leadership in SVRA and our expanding relationship with Trans Am along with this exciting new Pro-Am for NASCAR legends contribute mightily to the content-rich motorsports festival we continue to grow."
Evernham has raced in SVRA on several occasions. The last two years he partnered with NASCAR champion Bill Elliott at the Indy Legends Charity Pro-Am.
"I have found a lot of us who have been so fortunate in motorsports are realizing great rewards in reaching out and helping those in need," said Evernham. "My son's Asperger's condition gave me a very personal reason to take up this cause. SVRA's team runs a first-rate show all racers and car lovers can appreciate, and that makes using it as a platform for giving back very satisfying."
In addition to the Pro-Am features and professional Trans Am racing, the 2018 SVRA schedule will continue to deliver a motorsports festival atmosphere at most of its events. Fans can expect more of the Hagerty Insurance "show and shine" car corrals and driving and riding experiences from sponsors like Jaguar and Harley-Davidson.
2018 SVRA Schedule
February 16-18 | Bob Williams Heritage Cup Races & Driving School, Roebling Road, GA
March 1-4 | Sebring Vintage Classic, Sebring Intl Raceway, FL, with IGT, Trans Am
March 28-31 | Road Atlanta Grand Prix, Road Atlanta Raceway, with Trans Am
April 27-29 | SoCal Historic Sports Car Festival, Auto Club Speedway, CA, with Trans Am
May 17-20 | Spring Vintage Festival, Road America, WI, with IGT
May 31-June 3 | Sonoma Historic Motorsports Festival, Sonoma Raceway, CA, with Trans Am
June 13-17 | Brickyard Vintage Racing Invitational, Indianapolis Motor Speedway, IN, with Trans Am and SVRA "Indy Legends" Charity Pro-Am
June 21-24 | Vintage Grand Prix of Mid-Ohio, Mid-Ohio Sports Car Course, OH, with IGT – Featured Marque: Volvo
July 26-29 | Portland Vintage Racing Festival, Portland Intl Raceway, OR, with Trans Am
September 6-9 | U.S. Vintage Grand Prix, Watkins Glen Intl, NY, Featuring Collier Cup MG Race with IGT, Trans Am – Featured Marque: Mini Cooper
September 20-23 | Heacock Classic Gold Cup, Virginia Intl Raceway, VA, with IGT, Trans Am, and "American Legends" Pro-Am with NASCAR Legends – Featured Marque: Chevrolet Corvair
October 5-7 | Slaying the Dragon Hill Climb, Robbinsville, NC (pending venue approval)
November 1-4 | US Vintage National Championship, Circuits of The Americas, TX, with IGT, Trans Am