Trophy Recognizes Vintage Racers Exemplifying Sports Car Legend's Sportsmanship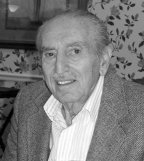 The Sportscar Vintage Racing Association (SVRA) announced today that it would present a trophy to the vintage racer who best lives the values of legendary sports car racer Otto Linton at the U.S. Vintage Grand Prix in September. That weekend celebration takes place at Watkins Glen International Raceway. Linton is already commemorated on the famous Watkins Glen Village's "Walk of Fame" at the start-finish of the original public roads race course. Linton, the last living driver entered in the first Watkins Glen Grand Prix in 1948, passed away on January 3rd. Born in 1917, he was 100 years old.
"Otto Linton was an outstanding racer and a fine human being," said Tony Parella, SVRA president and CEO. "Our hearts go out to his family and many friends. With this award we not only want to remember Otto but also encourage and recognize those who live, as he did, the vintage racing values of friendly competition, camaraderie, and respect which is paramount to everyone at SVRA."
Austrian-born Linton was captivated by the display of driving skill by Italian Champion Tazio Nuvolari at the 1937 Czechoslovakian Grand Prix. The impression was so strong it set his mind to ponder how he could take up racing too. He immigrated to the United States in 1938 after studying engineering at the University of Vienna. During World War II he worked as an engineer in a program to convert manufacturing facilities to military production in Philadelphia.
It was during this period that Linton established himself in automotive circles when he became one of the first members of the Antique Automobile Club of America (AACA). Some of the membership soon became interested in forming an organization to support sports car racing. In 1944 Linton joined fellow AACA members to help build the Sports Car Club of America (SCCA) by working to establish the Philadelphia Region.
From 1948 to 1967, Linton competed at 30 different race courses, including Sebring, Road America, Virginia International Raceway, Bridgehampton, and Lime Rock. He raced at both the original Watkins Glen public road course and the Watkins Glen International Raceway road course after its construction in 1956. He mastered street courses, airfields, and purpose-built road courses. In addition to Sebring, the airfield courses on Linton's resume include Linden Field, Vero Beach, and Cumberland.
As the owner of Philadelphia's Speedcraft Enterprises, Inc. car dealership, the list of street and race cars Linton drove is at least as iconic as the tracks he raced on. Among them was a Duesenberg that competed in the Indianapolis 500. Other marques he raced were Stutz, Amilcar, MG, Siata, OSCA, Abarth, Mercedes, and Elva. He even crewed for one of Augie Duesenberg's last race entries at the 1948 Indianapolis 500.
Linton's competition career centered on endurance racing where he scored several class victories, including the "Index of Performance" handicap competition during the 12 Hours of Sebring. After he sold his business interests in 1984, he became active in and an advocate for vintage racing. He attended events at several tracks, especially at Watkins Glen and Sebring.
Linton was a supporter of early women racers, including Isabelle Haskell, Suzy Dietrich, and Canadian Alice Ferguson. Such efforts earned him the reputation of a caring racer who loved the camaraderie of vintage racing and appreciated those who shared his passion regardless of social status or fame.