"Slaying the Dragon" Event Set for October 6-8 in North Carolina's Smoky Mountains Region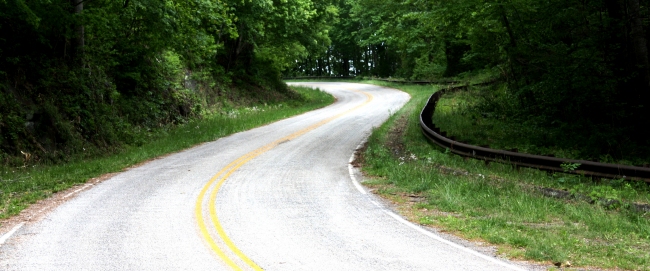 The Sportscar Vintage Racing Association (SVRA) today announced that for the first time ever America's premier vintage racing organization will host a hill climb near the historic "Tail of the Dragon," one of the most heavily traveled sport bike and car enthusiast roads in America. Called "Slaying the Dragon," the new event will take place on one of the safest competition hill climb roads in America.
The exact course has yet to be defined but will be a portion of Joyce Kilmer Park's 4.2-mile Maple Gap Road located in the area of Robbinsville, North Carolina. Like the legendary "Tail of the Dragon" just 11 miles away, this road presents a daunting array of curves that challenge even the most daring and skilled motorists. Unlike the better-known stretch of pavement, Maple Gap is lined with guardrails and earthen walls that protect drivers and prevent cars from plunging down slopes. It has a long history of safe, successful sports car hill climb competitions. The innovative event is a late addition to the SVRA's 2017 schedule and will take place October 6-8.
"Adventurous thrill-seekers have been drawn to this region's roads for over 100 years, so it's packed with history and heroic tales," said Tony Parella, SVRA president and CEO. "We're always looking to provide our drivers with exciting experiences and challenges. A hill climb conducted on public roads brings wonderful diversity to our schedule."
Nestled in the area of North Carolina's Great Smoky Mountains and the Cherokee National Forest, Maple Gap's twisting curves, blind sweepers, switchbacks, and varying running surfaces demand respect. SVRA officials expect the final course to present a mix of high-speed and tight, slow curves with steady elevation.
The Slaying the Dragon weekend will remain true to the SVRA's festival brand reputation for motorsports events. Look for a variety of amusing activities with an abundance of images and models of dragons integrated with mountain culture well known for artistic expression as well as entertainment.
"Involving the community is not just important to the success of the event, but also to create opportunity for a region that experienced unemployment as high as 14% over the last year," said Slaying the Dragon Hill Climb Director Ted Theodore. "This kind of event attracts thousands of spectators and participants from outside the area. That means an important, positive economic impact."
Theodore, who has served as event director for seven sports car hill climb competitions, works for the win-win with the local community. Involving citizens in a family-friendly celebration creates fun and financial support. SVRA plans to work with area high schools to develop fund raising programs and involve students in fun and meaningful roles supporting the event. Local vendors also have opportunities to market their wares and services.
Theodore's experience is essential to matters of a more immediately serious nature as well, such as emergency response teams. The team he has assembled has a detailed, proven plan for rapid response with Emergency Medical Service teams who have ambulances with airlift readily available if necessary.
"This is one event I will absolutely compete in, and I want to win," Parella added. "This is truly a driver's course, hugely challenging. I can't tell you how excited I am to provide this for our drivers, teams and car owners. I include myself in that number. I can't wait to take my Corvette roadster through those curves!"