Vintage Racing's Premier Organization Delivers Latest Leadership Announcement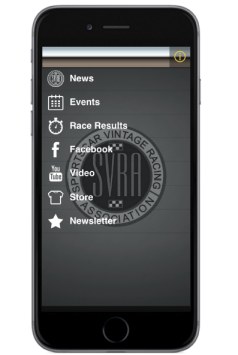 The Sportscar Vintage Racing Association (SVRA) today announced a mobile phone app developed for its members and vintage auto racing fans. The first release of the app will enable both spectators and SVRA members to easily stay in touch with the latest news whether at the track or on-the-go in general. The app is a free download. Plans call for the app to be available by the upcoming March 3-6 SVRA weekend at Sebring International Raceway.
"This is our latest effort to be responsive to our members and fans," said SVRA President and CEO Tony Parella. "The interest in vintage racing is growing and we started hearing from fans months ago that they needed this kind of access especially at our tracks during events to help them learn about our sport and follow the action."
A key feature of the app will be the delivery of the latest information on the results of SVRA races as they happen. During a race weekend the sanctioning body typically presents dozens of practice and qualifying sessions as well as races across numerous SVRA run groups and frequently hosts other series such as professional Trans Am, America's GT Cup and Historic Trans-Am.
"This is another example of SVRA leadership within the vintage racing segment of motorsport," said Lyn St. James, 1992 Indianapolis 500 Rookie-of –the-Year and recognized automotive industry expert. "The SVRA continues to deliver innovative ideas, products, and concepts by bringing established technologies to the vintage motorsports space. These event weekends have hundreds of cars so fans and competitors alike want access to information, especially about results. This is an important statement that Tony Parella and his team are committed to addressing those needs and helping everyone enjoy the vintage racing experience."
Other recent leadership announcements include the SVRA's Entry Protection Plan (EPP) – the motorsports industry's first guarantee to protect competitors from losing their entry fees due to rain. The EPP was announced last November to assure SVRA competitors a refund at most races provided there is at least an inch of rain on Saturday or Sunday of race weekends.
The SVRA has also led the way in creating America's first national platform for vintage racing with a series of events at the majority of the greatest road racing courses across the country. Other breakthroughs include the Indy Legends Charity ProAm at the Indianapolis Motor Speedway with 33 Indy 500 veterans as well as hosting other series such as professional TransAm during race weekends. Last year's strategic agreement to join forces with America's GT Cup and their exotic European sports cars such as Porsche and Ferrari at select races is yet another example of the SVRA's efforts to enhance its product and deliver value for everyone in the racing community.