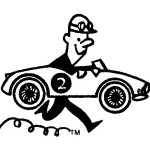 SVRA President and CEO Tony Parella will speak at the April 8th meeting of the Madison Avenue Sports Car Driving & Chowder Society at Sardi's restaurant, 234 W 44th Street, in New York City. Parella's talk represents his second invitation to address this group in as many years. Tony will discuss SVRA's plans for the 2014 season, particularly the upcoming Brickyard Vintage Racing Invitational at Indianapolis Motor Speedway and the second annual U.S. Vintage Racing National Championships in Austin TX. A question and answer period will follow.
The group was founded in 1957 and provides car enthusiasts ("Chowder Heads") from throughout the metropolitan area the opportunity to get together and talk about cars on the second Tuesday of every month. Among the luminaries who have previously spoken to the group are, Edsel Ford, Roger Penske, Bobby Rahal, Brian Redman, Phil Hill, and Steve Saleen, to name but a few.
SVRA members are invited to attend and reservations can be made by calling Mike Lindgren at 516.972.4304 prior to April 4th.