All-Time Great Sports Car Racer Was First Black Driver To Qualify for Indy 500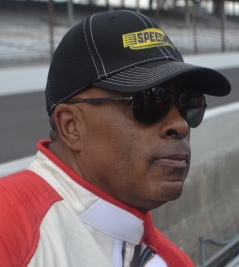 The Sportscar Vintage Racing Association (SVRA) today announced that Trans Am racing legend Willy T. Ribbs will return to competition at the Indianapolis Motor Speedway for the "Indy Legends" Charity Pro-Am during the Brickyard Invitational, June 16-19. Best known as the first black driver to qualify for the Indianapolis 500, Ribbs' accomplishments in Trans Am and IMSA sports car racing established him as one of America's top road racers.
"Willy T first raced with us in 2014 in our Indy Legends Pro-Am and pulled off one of the most amazing performances of the day when he finished third with no practice in his car," said SVRA President and CEO Tony Parella. "His original car was withdrawn with mechanical issues and Willy had to step into a machine he had not even sat in before. To drive it to a podium finish was really impressive. I also want to say that since then he has proven himself a great friend to the SVRA."
The Pro-Am feature Ribbs will compete in for the third time is a 40-minute race of American muscle cars on the Speedway's 2.43-mile Grand Prix road course on Saturday, June 18. The cars are 1963 to 1972 vintage Corvettes, Camaros and Mustangs of the "Group 6" SVRA class. Ribbs is the latest of a group of powerhouse early entries that include the Unser cousins, Al Jr., Robby and Johnny, as well as Indy car champion Paul Tracy. Larry Foyt and AJ Foyt IV are entered in the Pro-Am for the first time and there is a special "Garage 34" promoter's option for NASCAR champions Bill Elliott and Ray Evernham who will share a car. All the professionals will be paired with amateur drivers, splitting stints at the wheel at their discretion.
Ribbs is a two-time qualifier for the Indianapolis 500, starting the race in 1991 and again in 1993. He was also the first black driver to test for a Formula One team, getting that opportunity in 1986 with none other than Bernie Ecclestone, who owned the Brabham team at the time. A versatile driver, Ribbs also competed briefly at the top level of NASCAR as well as in their truck series. Ribbs was Trans Am's most prolific winner across three seasons, 1983 through 1985, when he scored 18 of his 19 career-total victories, including 13 for Jack Roush-prepared Mercury-Ford Capris. He was series rookie-of-the year in 1983, winning five times and more than any other driver. After conquering Trans Am and becoming the series all-time money winner up to that point he moved to Dan Gurney's IMSA Toyota team for two years and picked off 10 overall victories.
"When I think about racing with SVRA I think about the Springsteen song, 'Glory Days," Ribbs says. "What Tony and his team are doing is leading a movement in the sport. They are shaking things up and I'm not just talking about vintage racing, but all auto racing. I know we will put on one hell of a show and it's going to be good times for everyone."
While the SVRA Pro-Am Ribbs will compete in is the crowning event of the Brickyard Invitational, there is also a festival of other activities. As in previous years the SVRA will present exhibition runs on the storied 2.5-mile oval by a wide variety of cars including several of the crowd-favorite 1950's Indianapolis 500 "roadsters." The 2016 weekend not only promises a huge gathering of race cars but also some of the finest collector cars. Motostalgia, with offices in Austin, Texas, Mexico City and Monaco will stage an auction of select automobiles from around the world. The Brickyard Invitational will also expand out onto the world-famous infield IMS golf course with car corrals for organizations and clubs united by special marques and vintages as well as its "Shine and Show" car show. Saturday evening entertainment will include a concert by the legendary rock band, "Three Dog Night," capped off by a trademark SVRA mega-fireworks show.
The SVRA has 11 groups of racecars spanning 100 years of vintage machines. The array of entries at IMS will include select pre-war machines, classic sports cars, Formula One and Le Mans prototypes as current as 2011. Race fans can enjoy every minute of the action with overnight camping inside IMS. Pro-Am cars and drivers will also participate in a Fan Walk through the starting grid prior to the opening ceremonies allowing spectators to see the cars up close, take photos and chat with the drivers. All entry fees will be donated to the Indianapolis Motor Speedway Museum Foundation and the Hagerty Education Program.
Brickyard Invitational ticket information: Fans can order Brickyard Vintage Racing Invitational tickets for all or any one of the four days of the event online through the Speedway or by calling 800-822-INDY or 317-492-6700 between 8 a.m.-5 p.m. (ET) Monday through Friday. Fans can also visit the ticket office at the IMS Administration Building at 4790 West 16th Street between 8 a.m.-5 p.m. (ET) Monday through Friday. Tickets for groups of 20 or more also are available. Contact the IMS Group Sales Department at (866) 221-8775 for more information. Children 12 and under are admitted free each day when accompanied by an adult. Tent camping passes in the IMS infield start at $30 and are available all four days.