2020 Sebring Vintage Classic, A SpeedTour Event
February 27 - 29, 2020 | Sebring International Raceway - Sebring, FL
Sebring is the oldest and most famous continuously-operated road racing facility in North America, dating back to 1950 when the first race was held on the former B-17 training base. Sebring is also the spiritual home of SVRA, which continues to add to the legendary track's legacy with Sebring SpeedTour.
OFFICIAL TEST DAY SCHEDULE
OFFICIAL RACE SCHEDULE
Sebring Supplemental Information
2020 Sebring load-in map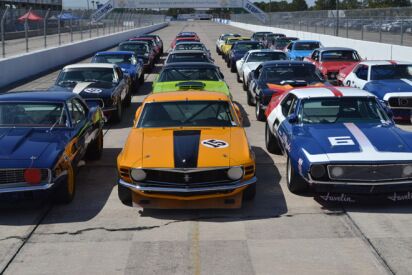 Vintage race cars are at the heart of this event that offers a mix of old and new. This year, Historic Trans-Am (HTA) racers will join the contemporary Trans Am presented by Pirelli, to celebrate at the place where Trans Am began in 1966. HTA will run in their own group with a Sunday Feature Reunion race. In addition, International GT Series will launch its 2020 racing season.
Sebring SpeedTour offers plenty of track time for all race groups, a Saturday night party, Hagerty Cars and Caffeine car show, touring, spectators and fun, fun, fun all weekend long. Join us for a great weekend of racing at a great classic track!
FEATURED CHARITY: VINTAGE RACERS FOR RESCUES
This weekend will benefit Vintage Racers for Rescues, that focuses on care, fostering and rehoming animals in need.
Featured Marque: Historic Trans Am
Featured Marques race for free, upon taking the green flag for the Sunday Feature Race. The race celebration includes a marque paddock, Reunion Race and will be highlighted in the event programs. Featured Marque entries can run in the standard SVRA run groups on Saturday and Sunday, as well as race in the 30-minute feature Reunion race on Sunday.
Sebring International Raceway

Contacts
Eligibility Contact: Rob Elson – rob@svra.com
Licensing Contact: Alex Miller – alex@svra.com
Vendor Sales/Car Show: Toni Strollo – tc@svra.com
Event Information Contact: Kathy Swinford – kathy@svra.com
PR Contact: Ashleigh Aungst – pr@parellamotorsports.com
Photo/Media Credentials: [Request Credentials] Pam Shatraw – pam@svra.com
Contacts
Eligibility Contact: Rob Elson – rob@svra.com
Licensing Contact: Alex Miller – alex@svra.com
Vendor Sales/Car Show: Toni Strollo – tc@svra.com
Event Information Contact: Kathy Swinford – kathy@svra.com
PR Contact: Ashleigh Aungst – pr@parellamotorsports.com
Photo/Media Credentials: [Request Credentials] Pam Shatraw – pam@svra.com